Knee surgery enables patient's return to sport
As an increasing number of active seniors are involved in sports and work, there are a number of them suffering from knee pain. In recent years, high tibial osteotomy (HTO surgery) has become a treatment option to relieve knee pain in certain patients. By realigning the limb and straightening the leg, patients are able to return to their daily activities without hindrance, and many have returned to sports and physically demanding work. One reason for HTO surgery becoming widely performed in Japan is the evolution of the medical devices used in the procedure.
Every time I walked, the pain grew worse and I gave up on weightlifting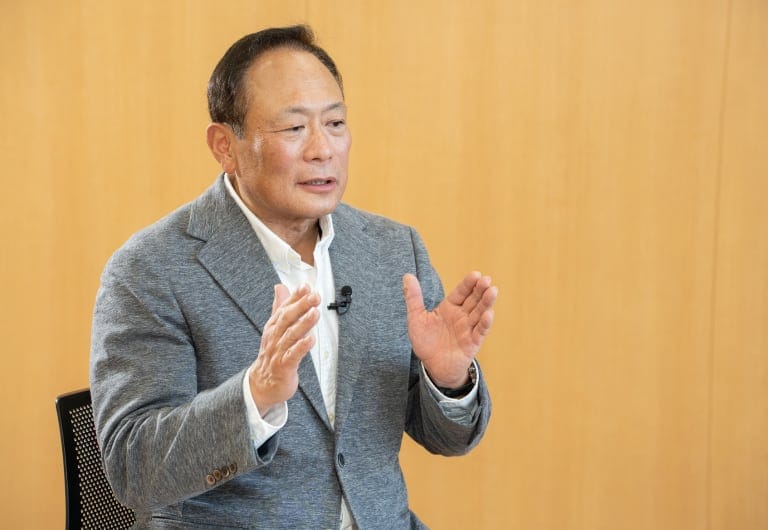 68-year-old Kazuhiro Nishio had been a weightlifter while in university. Since he entered the workforce, he had been too busy to weightlift; however, after retiring Kazuhiro was considering resuming his training.
As Kazuhiro aged, the bowing of his legs became worse. Every time he walked, the pain in his knees grew. Squatting and bending his knees became more difficult with age, to the point where he could no longer participate in sports.
After the operation, Nishio was invited by a friend to resume weightlifting. He started to gradually build up his body strength, squatting while holding a 20 kg weight and increasing to 40 kg. Nishio won second place at the All-Japan Masters in September 2022 in the 65–69 age group, competing in the 89kg weight class. He went on to win the championship at the following Kansai Masters competition.
Nishio says, "The time I spend training with my friends, encouraging each other, joking and laughing with them is invaluable to me. I never thought I would be able to resume weightlifting again when I had been in so much pain I couldn't even walk. If I hadn't had the surgery, my life would have been completely different. I am now able to lead a full life, thanks to the advances in medical technology and devices, as well as the support from my friends."
* Views expressed are solely the opinion of the osteotomy patient and does not guarantee the effectiveness of the surgery.
Preserving patients' knees allows many to resume sports
Dr. Hiroshi Nakayama, a surgeon at Hyogo Medical University Department of Orthopaedic Surgery, has performed many knee osteotomies including HTO.
Dr. Nakayama stated, "People with bowed legs put their weight on the inside of the knee, damaging the inner cartilage and meniscus. However, for patients who are in their 40s or 50s, it is too early for knee replacement surgery or for conservative approaches involving medication and reduced activity."
Those who undertake knee replacement surgery have a shorter hospital stay, but may be restricted from sports such as running after surgery.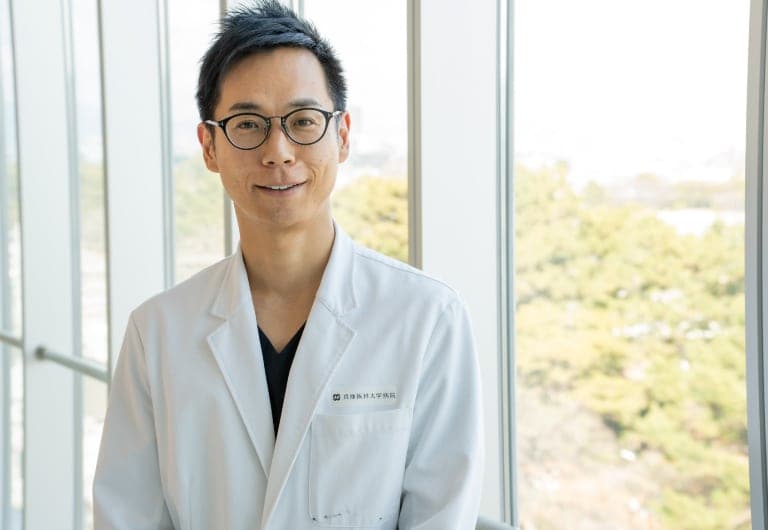 HTO surgery, on the other hand, involves making an incision in the tibia to realign the limb and straightening it to release the stress from the inner knees, relieving the pain. The earlier the surgery is performed, the better the post-operative satisfaction. Dr. Nakayama explains, "The biggest advantage of HTO is that the patient's own knee can be preserved, and many people are able to sit upright or bend their knees and return to physically demanding work such as sports or farming."
Development of HTO bone plates for all patients
One reason for HTO surgery becoming widely performed in Japan, Dr. Nakayama cites is the evolution of medical devices. Until now, the bone plates used in the surgery were only available from outside of Japan. These bone plates did not accommodate the body shape of many Japanese people and the plates would need to be bent during operation.
However, in recent years, bone plates have been developed that are better suited for many in Japan. "It's much easier for us doctors to use, and we can now perform the operation more quickly. There is less discomfort for the patient," comments Dr. Nakayama.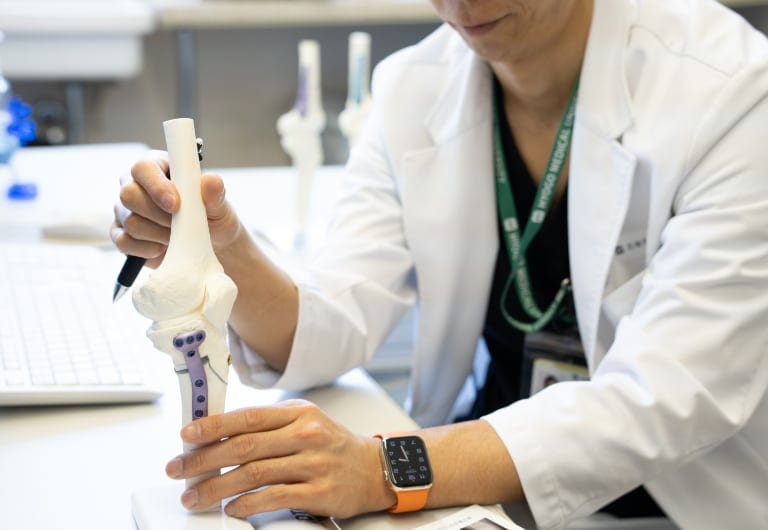 For Dr. Nakayama, a moment that brings him fulfillment is when he receives updates from patients who have undergone the surgery that are now able to enjoy marathons, mountain climbing and skiing again. "In the future, if regenerative medicine develops further, it may be possible to regenerate cartilage and meniscus after balancing with HTO surgery. I believe that the time will come when we will be able to preserve limb functions better than now and extend healthy life expectancy," Dr. Nakayama said, sharing his outlook.
* The effectiveness of the surgery is not guaranteed in all cases.
Olympus will continue to contribute to the development of healthcare by providing advanced medical technologies and solutions in the field of orthopedic surgery, together with Olympus Terumo Biomaterials Corporation, and be True to Life by realizing Our Purpose of "Making people's lives healthier, safer and more fulfilling."