Olympus endoscopes are used for diagnosis and treatment all over the world, contributing to making people's lives healthier, safer everywhere.
In particular, in emerging Asian countries, factors such as the westernization of eating habits attributable to rapid economic growth in recent years have led to an increase in diseases (non-communicable diseases) such as cancer, for which countermeasures are urgently needed.
Olympus believes it can contribute to improvements in local healthcare standards by disseminating Japan's superior medical technology and services. Together with Japan's government organizations and relevant academic societies, Olympus is working on international cooperation initiatives, such as supporting the development of physicians, through collaborative efforts involving industry, government, and academia.
In recent years, Olympus has carried out efforts in Vietnam, which suffers a shortage in the number of endoscopists. In Vietnam, a country that has enjoyed tremendous economic growth, the number of cancer patients is increasing year on year. While an increase in demand for endoscopy, which are essential for early diagnosis and treatment of stomach cancer and colorectal cancer, is expected, there is a shortage in the number of physicians that possess the necessary knowledge and skills to carry out these endoscopy. That is why Olympus, based on collaborative efforts involving industry, government, and academia, has implemented multiple training projects for local physicians led by Japanese physicians. Olympus has also assisted in the creation of diagnosis guidelines in line with the state of healthcare in Vietnam, as well as tested the utility of using an endoscopic diagnosis support system* equipped with the latest AI technology in Vietnam.
Olympus believes that these efforts can contribute to resolving issues and advancing healthcare in countermeasures against cancer in Vietnam in the years to come. Such initiatives have been rolled out to the likes of Thailand and India, contributing to the health, peace of mind, and emotional fulfillment of people everywhere, including emerging countries.
*An endoscopic image diagnosis support software that assists physicians in making a diagnosis by using AI to help determine whether there are any lesions in the images of an endoscopy.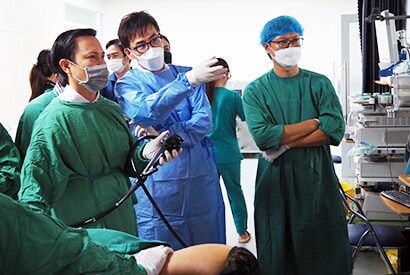 Training held in Ho Chi Minh City, Vietnam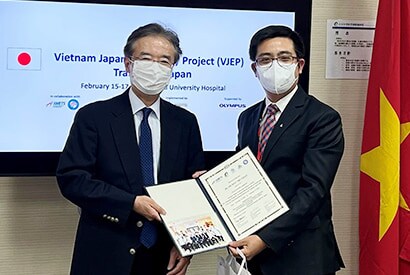 Certificates presented to traineess after the completion of their training in Japan