Genetic testing saved his life: Pancreatic cancer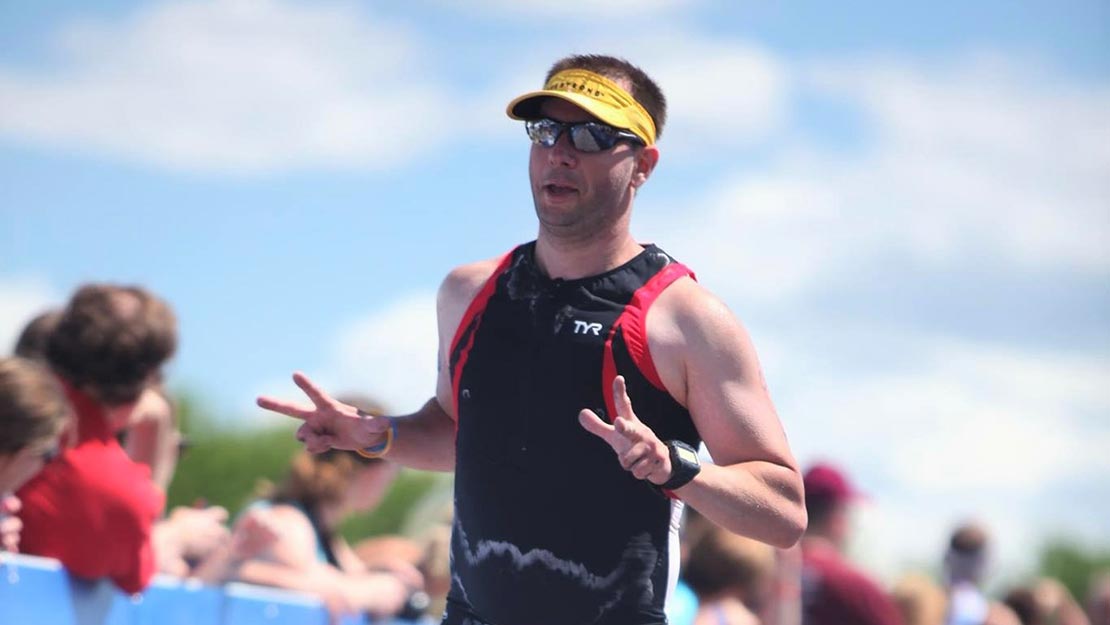 Nick Pifani, 45, is a family man. Married to the love of his life, Jen, father of two and an avid runner, marathoner and Ironman competitor. He is quite passionate about running, whether he is racing or just out for a training run, he is in his element. One morning, Nick went out for his usual run, and felt he just could not do it. It was then he knew something was wrong.
Sudden back pain
On March 7, 2017, at 42 years old, everything changed for Nick Pifani. Struggling with abdominal pain for approximately two weeks, he made an appointment to see a gastroenterologist. Unfortunately, that was not for another four weeks. When he could not sleep three nights in a row due to severe, sudden back pain, waiting was no longer an option, so he headed to the Emergency Room.
A mass found in his pancreas
The doctors ordered an ultrasound suspecting it could be gallstones but it came back negative. They ordered a CT scan to rule out appendicitis. The CT scan revealed what looked like a mass at the head of the pancreas. Two days later a follow up MRI confirmed a pancreatic head mass. Nick's family physician suggested he see an oncologist and a surgeon immediately. After consultations with two world-renowned cancer facilities, both confirmed an inoperable pancreatic head mass due to its size and close proximity to a major blood vessel. Shortly thereafter, a biopsy was performed and it was determined that Nick had Stage III Pancreatic Adenocarcinoma.
Revealing genetic information saved his life
Coincidentally, Nick's cousin received a diagnosis of pancreatic cancer just weeks prior to his diagnosis, and treated by the same physician. With the realization of a family connection, the physician suggested genetic testing. The genetic testing revealed a mutation that responds to platinum-based chemotherapy, and after several treatments as well as targeted radiation, Nick's tumor decreased in size enough to have surgery.
Nick credits this genetic testing and initial treatment with saving his life. "I believe every patient should get genetic testing. All pancreatic cancer is not the same. If you can get the right type of treatment from the get-go, chances are you'll have a much better outcome", Nick states. His advice to patients, "As a patient, you need to become educated. The more information that you have, the more powerful it can be."
"I want to make a difference"
Celebrating four years of being cancer-free, Nick currently devotes much of his time to patient advocacy, and raising funds for pancreatic cancer research for early detection and genetic testing. He is involved with organizations such as Stand Up To Cancer (SU2C) and the Pancreatic Cancer Action Network.
Nick states, "I lost some family members to pancreatic cancer. I'm not just advocating for myself, I'm advocating for them. I promised myself, when I make it through, I'm going to volunteer and make a difference. I make it a point to tell my story, because even if one person hears it and it helps them, that makes a difference."
We thank Nick for sharing his story and celebrate his cancer-free diagnosis.
※ The conditions, feelings and treatment of each patient may vary from person to person. Please consult your doctor for your diagnosis and treatment.