Basic Concept and Governance System
Basic Approach to Sustainability
Putting Our Purpose into Practice as the Basic Premise of Sustainability
"Making people's lives healthier, safer and more fulfilling" is Our Purpose at Olympus.
Supporting cutting-edge medical procedures. Helping make people feel safer and more secure. Through our business activities, we aim to contribute to global society by making these things happen. This is the purpose of our existence. The basic premise of sustainability at Olympus is putting Our Purpose into practice.
Aiming for both a "Sustainable OLYMPUS" and a "Sustainable Society"
Olympus has developed its business activities based on the legacy and in line with its founding spirit of "Create something truly original, and propose new values to society." We believe that contributing to the sustainable development and progress of the globe and society based on this founding spirit, by putting Our Purpose into practice, will allow Olympus itself to achieve sustainable growth and value creation. We are aiming to achieve sustainable growth by creating a cycle whereby profits generated through our business activities are reinvested to create new value in accordance with our corporate principles and subsequently generate further profits.
The environment surrounding corporations is changing from day to day, while society too is undergoing major changes. One of the major goals of our sustainability initiatives is to establish an appropriate understanding of demands originating from outside the company, and work to address various social issues in our capacity as a MedTech company, while catering to the expectations of our stakeholders.
Basic Sustainability Concepts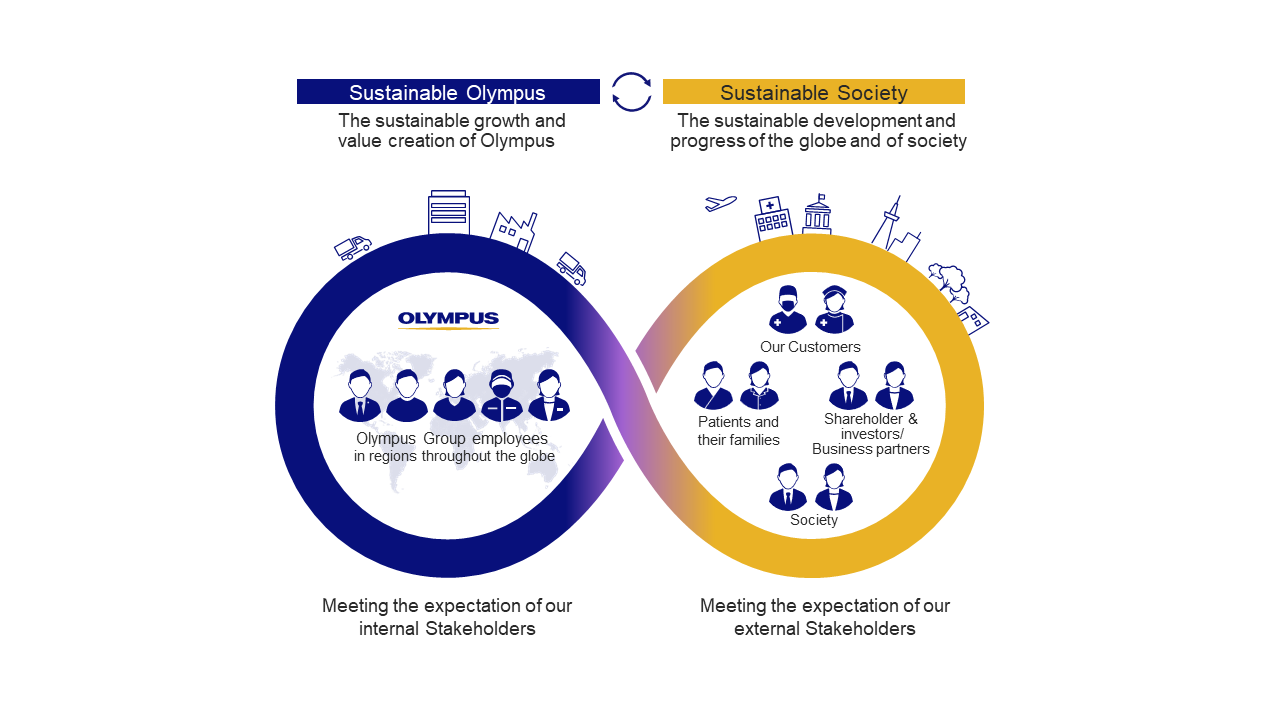 Funding our journey and invest to create value for all stakeholders
Sustainable OLYMPUS: Putting Our Purpose into Practice
Contribute to improving the quality of life (QOL) of patients through value co-creation alongside physicians and medical institutions
Olympus's medical business commenced with its development of the world's first gastric camera suitable to practical applications. This development was a direct response to the desire among physicians for a means for the early detection and diagnosis of gastric cancer to achieve reductions in the associated mortality rates. From that time, through to the present, Olympus has worked in close step with physicians for this common purpose in developing endoscopes and other medical devices.
Delivering outstanding products and technologies and training healthcare professionals in their safe and appropriate application facilitates both the "early diagnosis" of diseases as well as "minimally invasive treatments," to reduce the burdens on patients and thereby contribute to improvements in patient quality of life (QOL).
Olympus will continue to rise to the challenge of innovations in the domain of medical devices made possible by collaborations with healthcare professionals, with the aim of improving healthcare outcomes (medical efficacy) and healthcare access (disseminating medical technologies of advanced medical efficacy).
Olympus's Basic Business Structure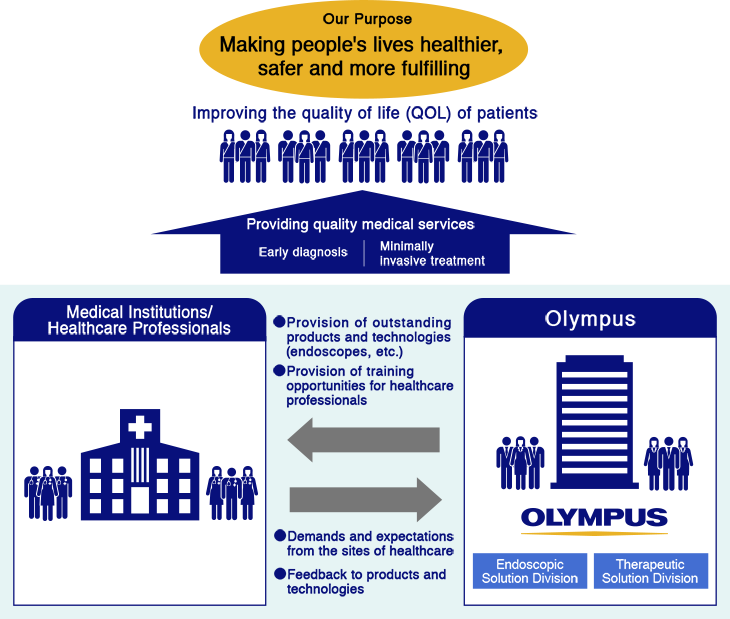 Maintain and enhance relationships of trust with stakeholders by emphasizing "dialogue" and "action"
Olympus promotes all of its business activities while responding to requests and expectations from society and fulfilling our duties and responsibilities based on our Corporate Philosophy. We understand that Olympus as a corporation deserves to continue to exist only when we fulfill our responsibilities through dialogs with stakeholders-including customers, suppliers, shareholders, investors, employees and their families, local communities, and international society.
As part of our mission as a MedTech company, Olympus will continue to cater to the fundamental needs of people and of society throughout the globe through our business activities. We will meanwhile foster a corporate culture that enables each and every employee to perform at their best. We will additionally seek to grow sustainably and contribute to the further development of society.
Stakeholder Relations at Olympus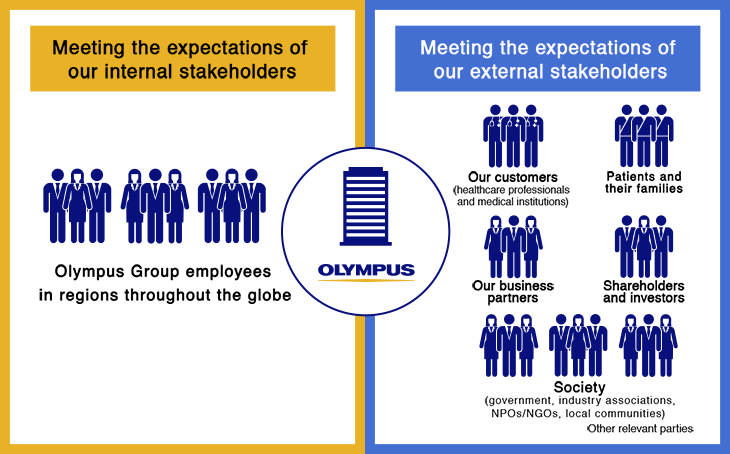 Sustainable Society: Contributions to the Sustainable Development Goals (SDGs)
Decipher and elucidate the relationship between our business activities and the SDGs and establish business goals to which those activities should contribute
Olympus will engage, through its business activities, with the resolution of environmental and societal issues facing the world while contributing to the realization of a sustainable society, which is the objective of the SDGs*. Toward this end, we have deciphered and elucidated the particular relationships between the SDGs and our own business activities, in the process identifying 13 goals closely related to Olympus's operations.
Of these 13 goals, the SDG to which our degree of contribution through our business is greatest is goal 3 "Good health and well-being," and we will actively contribute to the resolution of multiple societal issues centered on "health" as a global MedTech company.
* Sustainable Development Goals (SDGs): Common goals for the international community set by the United Nations toward the achievement of a sustainable world by the year 2030.
Olympus and Its Relationships with the SDGs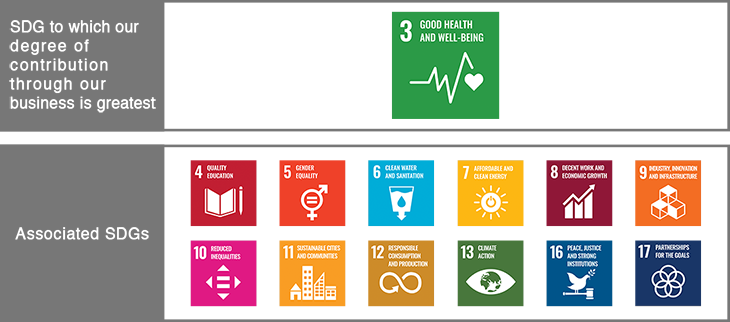 Main materiality items associated with contributions to goal 3

Refer to the below regarding materiality associated with SDGs other than goal 3
Sustainability Governance System
Enhancing the links between management and sustainability
Olympus has promoted sustainability management, including the designation of an ESG Officer, since 2021, and establishment of the KPIs specified in our medium- to long-term business plan.
In addition, in FY2021, we made the decision to link 10% of the executive officers' performance share unit (PSU), a part of our long-term incentive compensation, to the results of an evaluation by an external ESG evaluation organization.
Established ESG Committee and strengthened sustainability strategy promotion system
To enhance Olympus's ESG initiatives, we undertook a reconsideration of our promotion structure for sustainability strategies at the Group level in FY 2023. We then established a new sustainability governance system in April 2023. Under the new governance system, an "ESG Committee" has been put in place, with the ESG Officer having ownership, and the committee comprised of heads of respective businesses and functions. The ESG Committee implements sustainability strategies, discusses important measures related to materiality, and monitors progress against goals. Furthermore, we have established thematic working groups under the ESG Committee, such as those on the environment and human rights, to study and share information on measures that need to be taken across functions.
The ESG Officer reports to the Group Executive Committee and the Board of Directors on the implementation status of the sustainability strategy as well as outcomes and attendant challenges. We thus ensure that a proper and appropriate sustainability strategy is implemented based on the guidance and advice of the Executive Committee and the Board of Directors.
Sustainability Governance System