ESG Strategy
Company Strategy
Formulation of a new Company Strategy focused on
"what lies ahead" of transformations to date toward our growth as a global MedTech company
Olympus announced the corporate transformation plan "Transform Olympus" alongside the  Corporate Strategy in 2019. In the three years which followed this, we achieved significant transformations in all aspects of our business structure, organizational and operational model, employee awareness, corporate culture, and other relevant areas. As a result, our adjusted operating margin has significantly improved from its level of 9.2% in FY2019*, to 20.0% in FY2023.
Based on these transformations, in May 2023, Olympus announced a new company strategy toward achieving further growth as a global MedTech company. Going forward, in the new stage of "Shift to Grow," we aim to further solidify our growth trajectory by focusing on areas of disease which will be most conducive to Olympus demonstrating its best values, as well as by investing in the cultivation and development of new products and technologies that will contribute to improvements in healthcare standards. In addition, Olympus are focusing on quality assurance (QA) and Regulatory Affairs (RA), providing our high-quality products and services in line with long-term strategies, and striving to achieve sustainable business growth and increase corporate value, with patient safety set out as our foremost priority, and will thereby work actively to enhance the trust invested in us by our stakeholders.
* Includes adjusted operating margin from the Scientific Solutions Business/Imaging Business.

Positioning of ESG in the New Company Strategy
Olympus sets out "patient safety and sustainability," "innovation for growth," and "productivity" as our three priorities under the new Company Strategy. We will endeavor to build a strong and sustainable organization by working with regulators and stakeholders to remain a company with integrity and transparency. We will meanwhile actively aim to contribute to the realization of Our Purpose, namely of: "Making people's lives healthier, safer and more fulfilling," in order to become a leader in the healthcare industry as well as in ESG.
We have positioned the promotion of ESG as a key item among our priority initiatives, and will enhance the affinity and consistency between our ESG Strategy and Olympus's company strategy, business strategy, and functional strategy to levels greater than previously seen.
Guiding Principles

Materiality Topics at Olympus
Process for Analysis and Identification of Focus Areas and Materiality Topics
In conjunction with the formulation of the new Company Strategy, we reviewed and adjusted our ESG Strategy. In the review of materiality, we identified Six Focus Areas and 25 Materiality Topics falling under these Focus Areas, based on fresh input from our stakeholders, societal expectations and requirements, trends within the MedTech industry, and analyses of risks and opportunities from the perspective of sustainability*.
In the process of identifying these 25 Materiality Topics, mapping of these topics onto the two axes of "importance to stakeholders" and "impact on Olympus's business (importance to Olympus)" is carried out, with Olympus then assigning these to three levels of priority: Top Priority, High Priority, and Others.
KPIs have been set for those Materiality Topics that have been positioned as particularly important Top Priority topics, with progress towards their achievement being actively managed. Progress statuses and new initiatives will also be actively discussed at ESG Committee and Board of Directors meetings.
* The existing six important ESG areas and five materiality items were realigned into Six Focus Areas.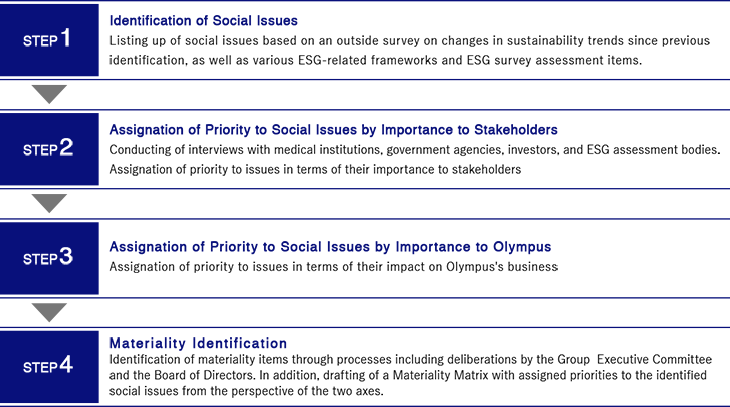 Materiality Matrix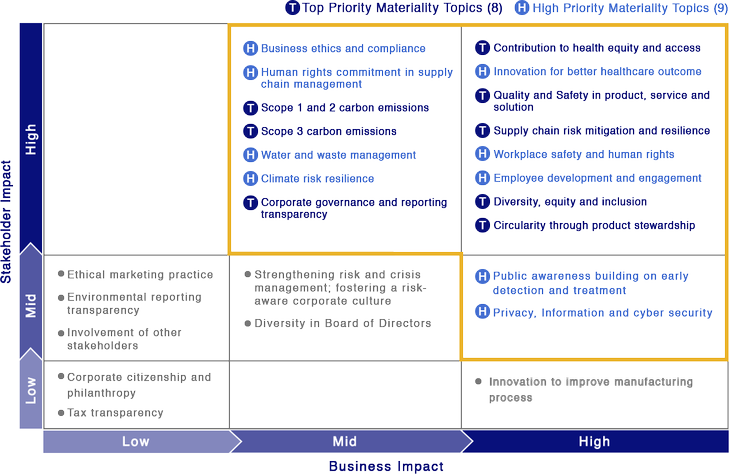 Six Focus Areas and 25 Materiality Topics
The Six Focus Areas and 25 Materiality Topics are integral to Olympus's corporate and business activities, and we will actively contribute to the resolution of a wide range of social issues through our activities related to these areas.
ESG Strategy Structure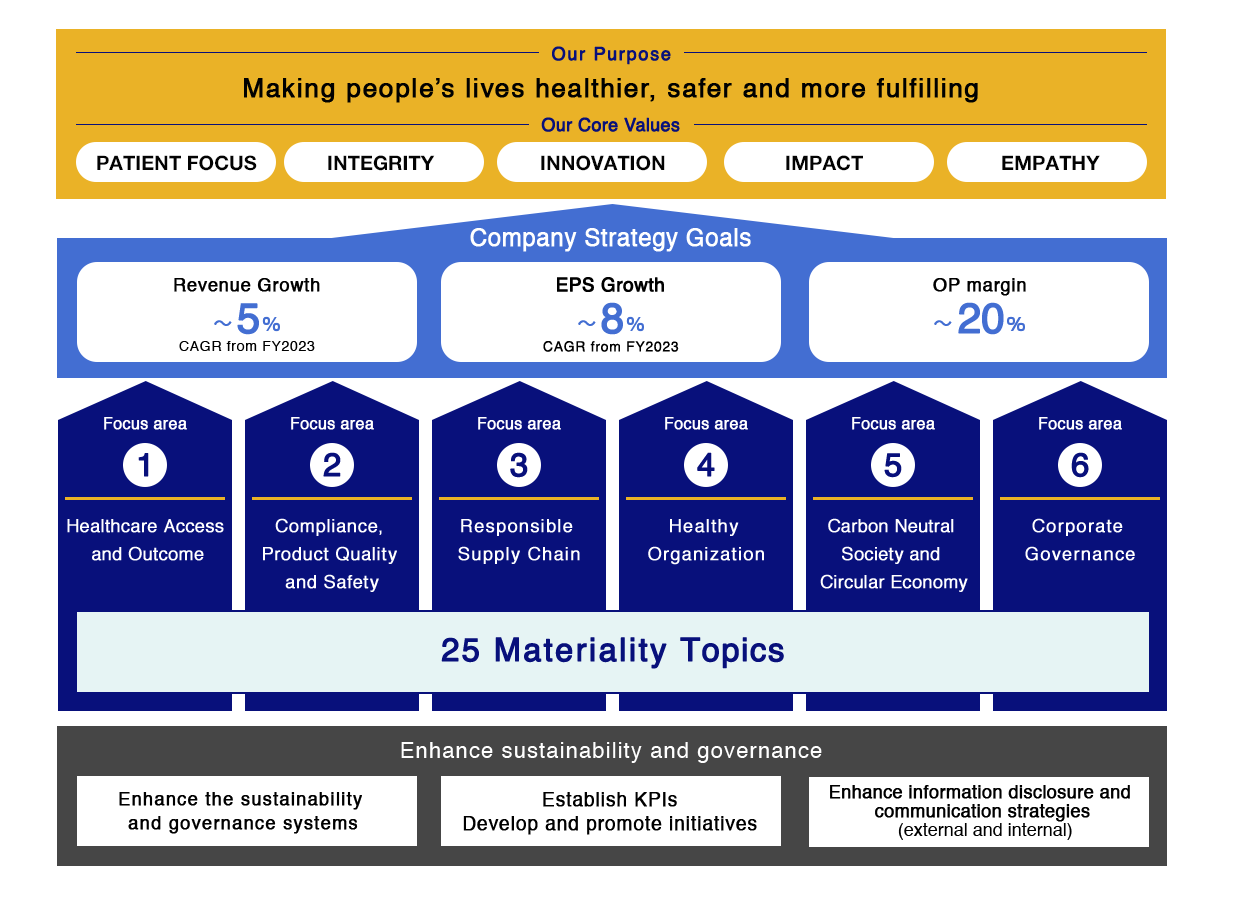 Six Focus Areas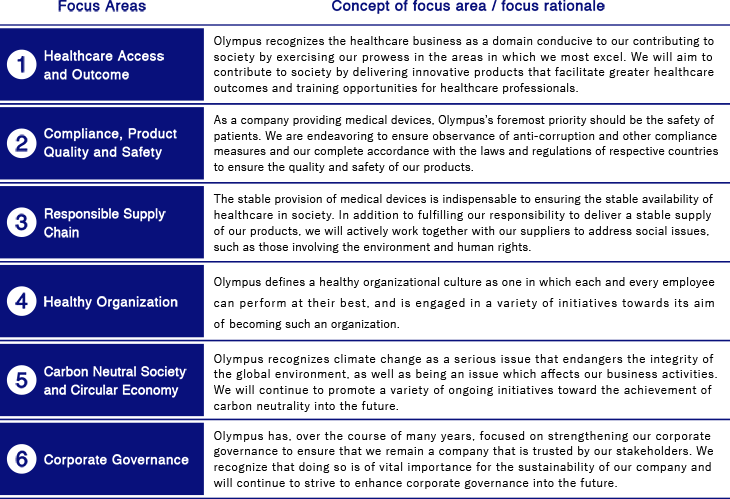 List of Respective Materiality Topics by Focus Area
We have established KPIs for each of the items positioned as Top Priorities, and are managing our progress toward achieving these.
Six Focus Areas/25 Materiality Topics/Three Priority Categories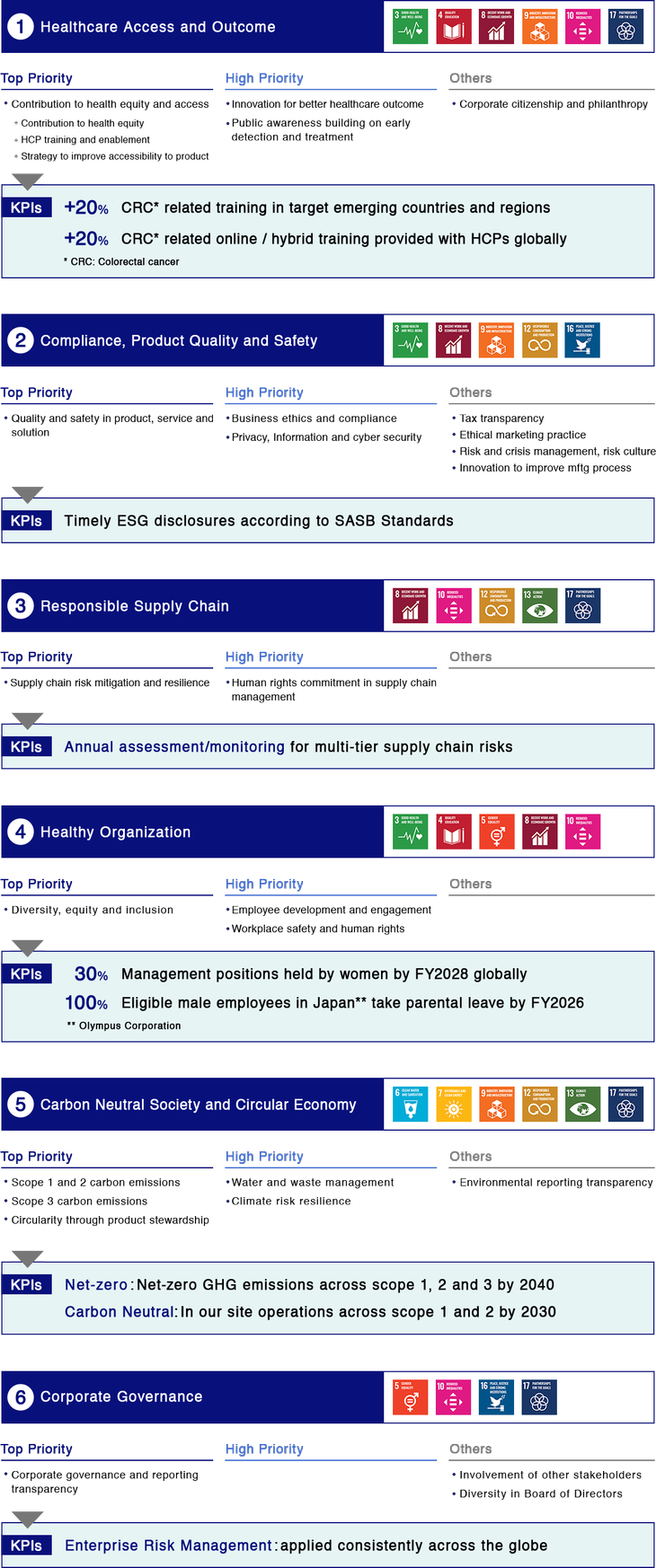 Contributions to Society through Our Medical Business
This section presents examples of Olympus's contributions to society through its medical business.