Responding to Customers
Basic Concept
The Olympus Group is engaged in a variety of initiatives to provide better products and services to healthcare professionals, our customers, in order to contribute to "Making people's lives healthier and safer". We have established a global system to accurately handle a series of customer service activities, from product sales to in-use support and repairs, and are engaged in daily operations.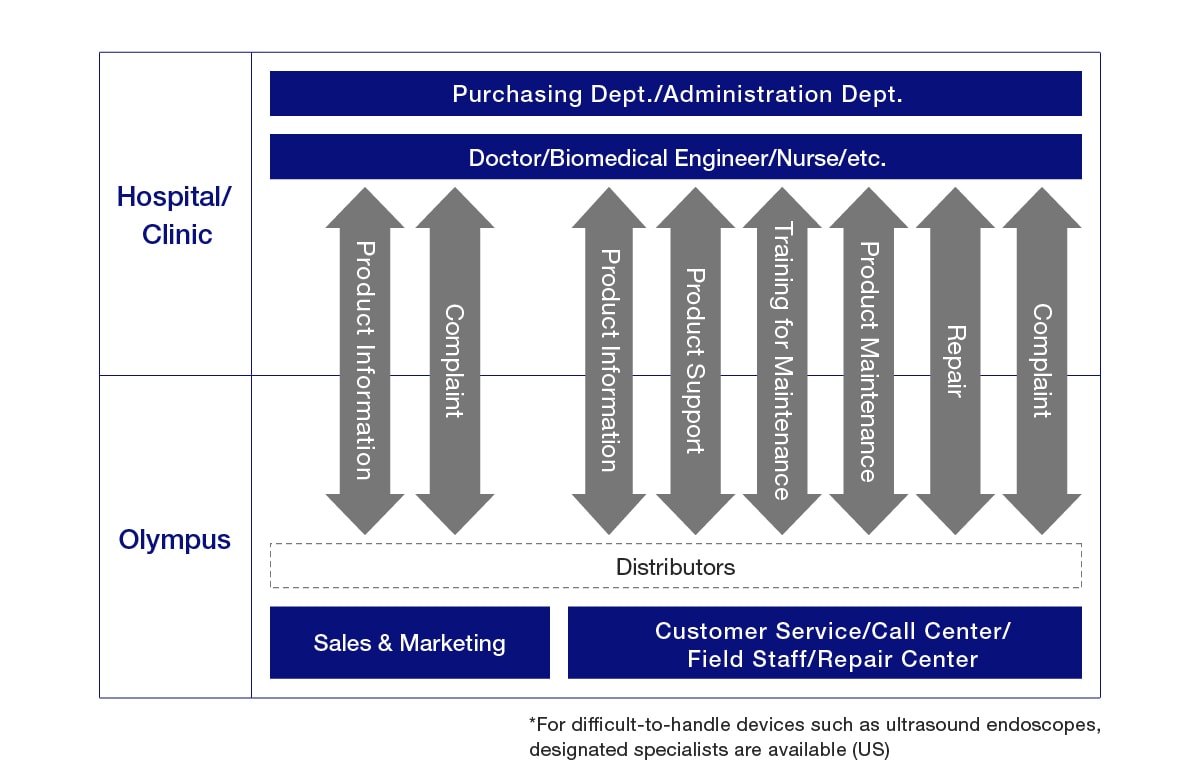 Initiatives
Building a relationship of trust with customers
The Olympus Group believes that a relationship of trust with healthcare professionals is necessary to provide better products and services and contribute to making people's lives healthier and safer, and monitors customers' satisfaction with its activities at various points of contact with customers, including sales and after-sales services, in Europe, the Americas, and Japan. Based on the monitoring results, issues are clarified and prioritized, the impact on business is quantified, and feedback is provided to each department in charge to improve the quality of activities. By continuing these efforts, we hope to deepen the relationship of trust with our customers.
In 2022, we began monitoring in the Australia region using the same survey method, and plan to gradually expand the range of areas covered by the system.
Main measures implemented for improvement
Europe:
Improvement of complaint management
Visualization of order management status
Development of internal infrastructure for communication with customers
Americas:
Revision of policy on lending substitutes to customers during repairs
Improvement of service engineer communication skills
Development of portal site to check the status of repairs
Japan:
Establishment of a working group dedicated to improving customer satisfaction
Compliance in sales activities
Based on the Olympus Group Code of Conduct, the Olympus Group conducts thorough compliance education to ensure the safety of its products and services, eradicate discrimination and harassment, comply with ethical business practices, and protect personal information and other information assets.
Post-sales activities
The Olympus Group's core products, the endoscopes, are inserted into the body and are precision instruments with complex and special structures for reliable medical procedures by healthcare professionals. We systematically provide a variety of support even after the product has been sold, as it requires inspection before use, proper reprocessing (cleaning, disinfection, and/or sterilization) after use, and regular maintenance.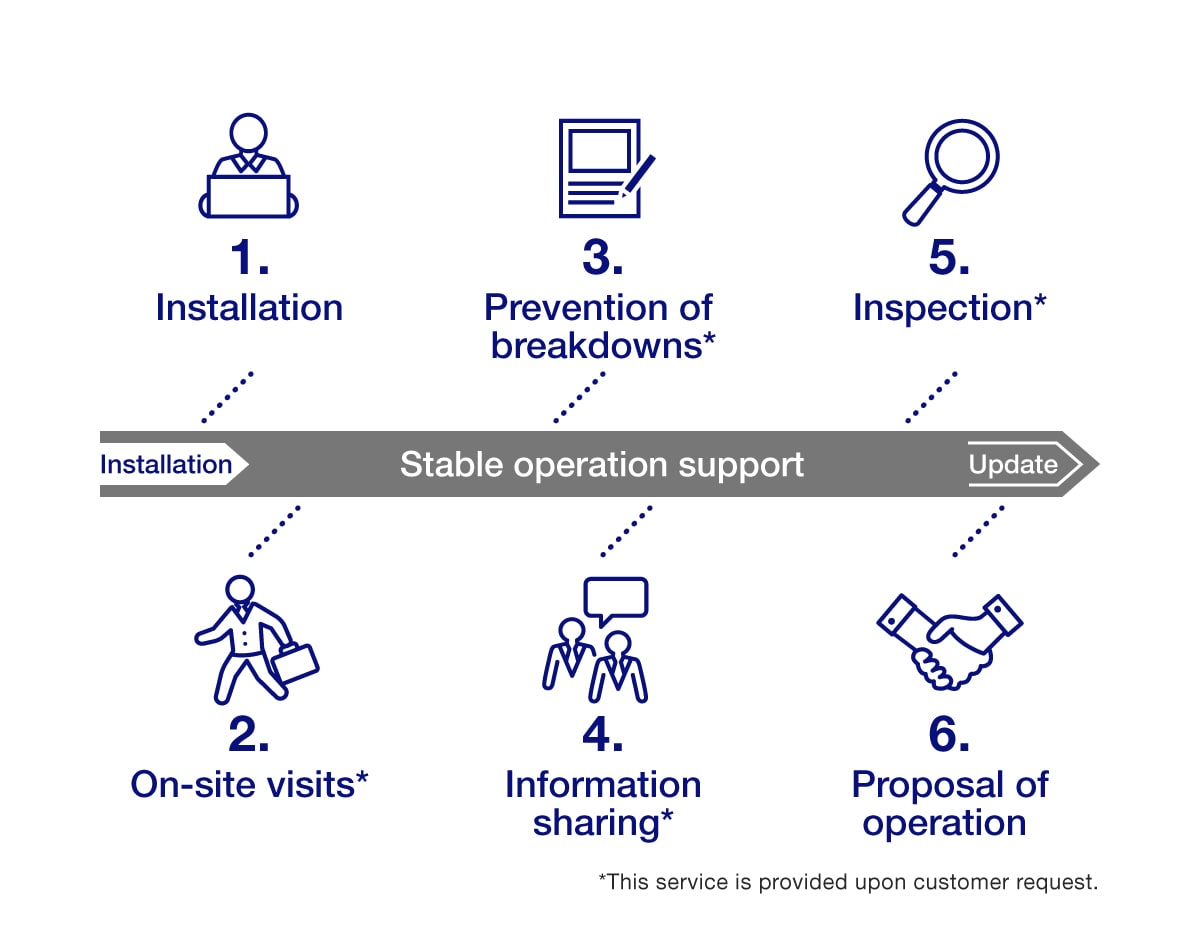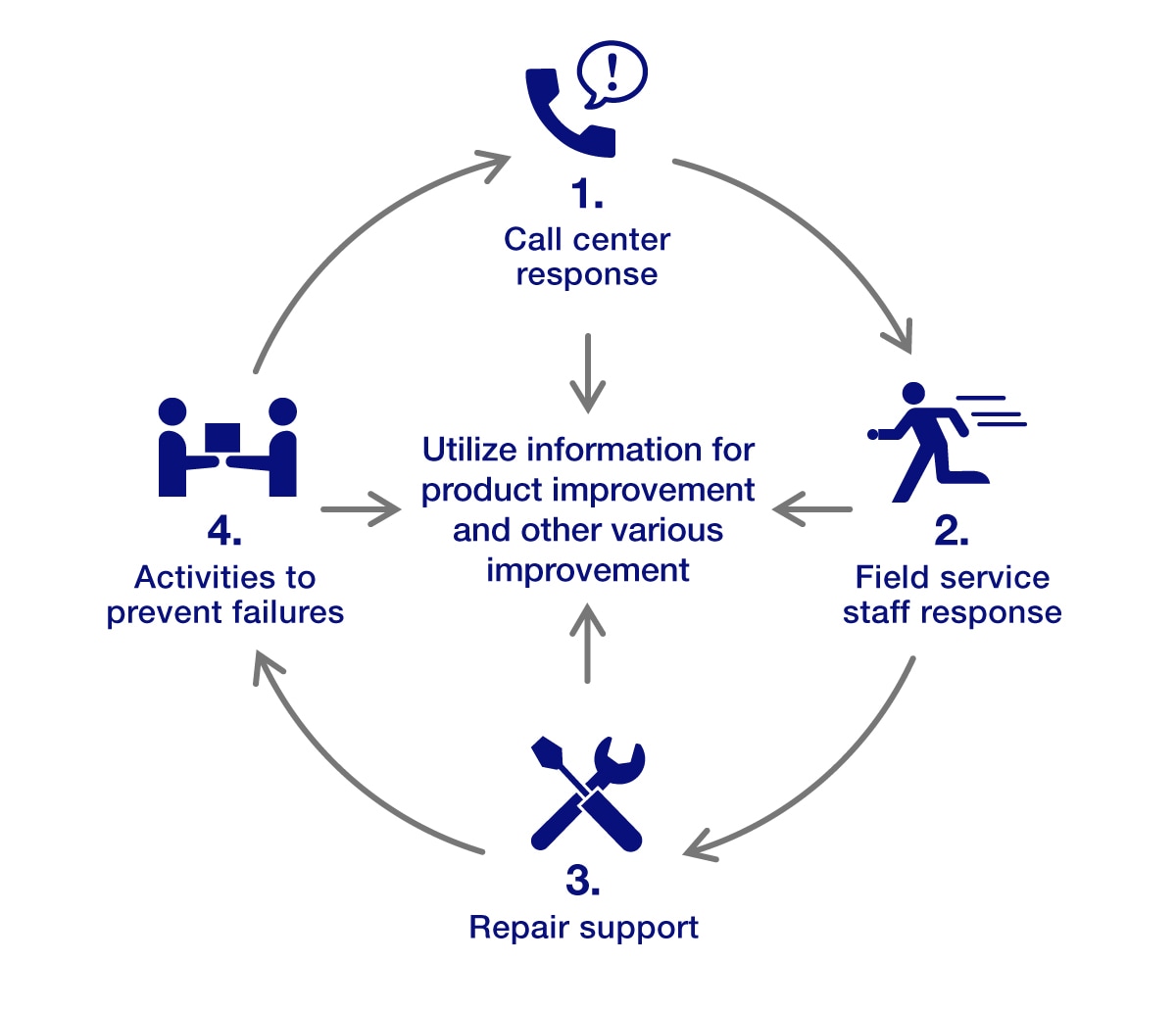 Repair site
Each Olympus Group repair center is equipped to respond promptly to repair requests from customers. In addition, the Olympus Group has a mutual backup system in case of emergencies such as disasters.