Employment
Basic Approach and Policy
The Olympus Group published the Olympus Global Code of Conduct to define the ethical standards for the actions that all group members always act in a manner. We place the highest value on "Respectful Behavior." Under the Code of Conduct, we clearly declare that we do not allow harassing behavior or discrimination based on personal characteristics like gender, age, nationality, ethnicity, skin color, political views, sexual orientation, religious beliefs, social background or disability. "Show appreciation for diversity of people, views, and work styles" and "Never discriminate against job candidates or employees" are two examples of "What we do". With these basic codes of conduct fully implemented, we provide all employees with equal opportunities to fulfill their potential and improve their abilities as well as opportunities to work, develop their abilities and gain promotion according to their level of competency.
In April 2019 we introduced a corporate transformation plan Transform Olympus, a global-scale human resources development system that serves as the basis for our global employees to follow our Corporate Philosophy (Our Purpose and Our Core Values), and to encourage each employee to take on ambitious challenges for personal growth. Under our transformation plan, we will assign employees in the most efficient way without regard to nationality or gender to encourage our diverse human resources to work effectively. Especially in Japan, we plan to expand the use of our "job-based" personnel system, starting from Olympus. This allows the company to assess individual employee's performance and reward their achievements in a fairer manner with the conventional Japanese style "membership" personnel system, in which the employee's years of service and age are given greater account in their career assessment. The job-based system should also provide a way for employees to pursue their expertise and aim at further career advancement.
Promotion Structure
In the Olympus Group, the President is ultimately responsible for our strategy for human resources including human resource development and labor management, while the senior executive officer in charge of employment and labor issues implements our group-wide human resource strategy through the functions of the HR division at the headquarters.
We are implementing measures to ensure that we follow labor-related regulations in the various countries in which each subsidiary and division operate in compliance with the Group's human resource strategy to ensure diversity in human resources for optimal business management.
Olympus and its Japan subsidiaries are sometimes located in one facility. Each facility has its own general manager to ensure comprehensive implementation of policies and measures involving personnel and labor issues.
Organization of Human Resource Strategy Promotion (Olympus and its Japan subsidiaries)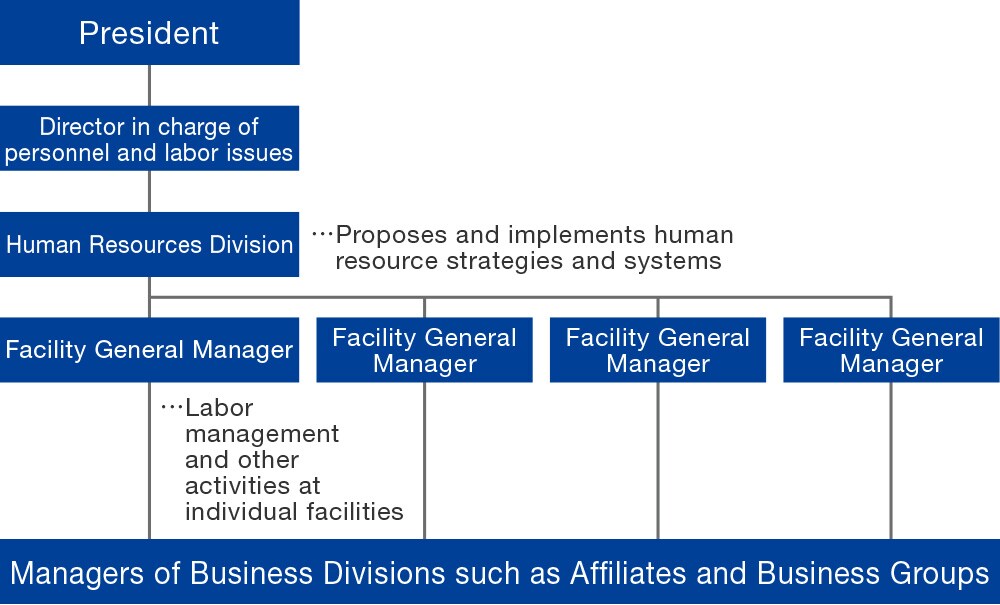 Initiatives
Recruitment in FY2021
Olympus hired 90 employees (only full-time employees) in FY2021, down by 73% over the previous year. Of these, mid-career employees accounted for 37% of the total.
Also, the hiring of women was actively promoted in line with the Act on Promotion of Women's Participation and Advancement in the Workplace, and the percentage of female employees increased by 7.9% to 36.6%.
Employment of People with Disabilities
Olympus proactively works to employ people with disabilities (physical, mental, and intellectual), and after recruitment, they work in a wide range of fields, including general administration and engineering fields that include manufacturing technology and IT development. Established in April 2009, our special-purpose subsidiary* Olympus Support Mate is now in its twelfth year of the foundation and hires essentially persons with intellectual disabilities. We have created working environments and working conditions that are appropriate both for the nature of each individual's disabilities and the operational requirements required to ensure that they can continue to work there. Following Aomori Olympus and Aizu Olympus, Shirakawa Olympus created a cleaning service group of Olympus Support Mates in April 2021, to provide jobs and fulfilling lives for persons with disabilities in the local communities. We also started an office chair cleaning business to maintain comfortable working environments in our business sites. As of April 2021, eight companies in the Olympus Group achieved a combined employment rate of 2.6%, exceeding the statutory rate of 2.2%. Olympus Terumo Biomaterials employs an athlete who aspire to participate in the Paralympic Games and actively supports their activities.
* Special-purpose subsidiary
A subsidiary approved by the Minister of Health, Labour and Welfare under the provisions of Article 44 of the Act on Employment Promotion, etc., of Persons with Disabilities as an organization that gives special consideration to the employment of people with disabilities and is deemed as one of the business offices of its parent company.
Employment of the Elderly
Olympus and its Japan subsidiaries have a system to continue employing employees who want to work for the Company after reaching the retirement age of 60 until they become 65 years old.
In FY2021, 113 people qualified for the system, and 100% of the employees requesting continued employment were hired accordingly.
Employee-Related Data
Consolidated companies
| Name of segment | Number of employees (persons) |
| --- | --- |
| Endoscopic Solutions Business | 14,243 (389) |
| Therapeutic Solutions Business | 7,269 (179) |
| Scientific Solutions Business | 3,551 (169) |
| Others | 608 (30) |
| Headquarters Administration Department | 5,982 (368) |
| Total | 31,653 (1,135) |
*1 The number of employees indicates the number of people who are currently employed.
*2 It does not include the number of the employees seconded to a non-group company but contains the number of the employees seconded to a group company. The yearly average number of temporary employees is recorded in parentheses ( ), which is excluded from the number of employees.
*3 Since the Company has transferred the Imaging Business in the fiscal year under review, it is excluded from the segments above.
*4 Since the fiscal year under review, the calculation method of the Headquarters Administration Department has been changed.
*5 The number of employees includes the retirees who utilize career support for external opportunity.
Olympus and its Japan subsidiaries
Number of employees
Olympus
Corporation
Overall Japan
Subsidiaries *1
Number of employees (As of the end of March 2021) (persons)
4,775
8,792
Breakdown
Full-time employees
Total*5
4,232
6,808
Men
Men's total
3,473
4,866
20s and younger
390
1,169
30s
800
1,455
40s
1,025
1,264
50s or older
1,258
978
Women
Women's total
759
1,942
20s and younger
132
729
30s
254
632
40s
272
435
50s or older
101
146
Excluding full-time employees
Total
543
1,984
Men
Men's total
252
1,176
20s and younger
38
229
30s
58
339
40s
73
289
50s or older
83
319
Women
Women's total
291
808
20s and younger
31
146
30s
58
280
40s
107
266
50s or older
95
116
Employee composition
Olympus
Corporation
Overall Japan
Subsidiaries*1
Number of senior management Total(persons)
193
141
Breakdown
Men
189
141
Women
4
0
Rate of women in senior management for direct divisions(%)
4.3
-
Number of junior management Total(persons)
896
454
Breakdown
Men
844
440
Women
52
14
Number of foreign employees Total(persons)
35
17
Breakdown
Men
17
10
Women
18
7
Recruitment
Olympus
Corporation
Overall Japan
Subsidiaries*1
Number of newly employed (FY2021) (persons)
53
460
Men
30s and younger
20
233
40s and older
9
11
Women
30s and younger
12
167
40s and older
12
49
Rate of newly employed*2 (%)
1.11
5.23
Breakdown
Men
30s and younger
1.56
7.30
40s and older
0.37
0.39
Women
30s and younger
2.53
9.35
40s and older
2.09
5.09
Number of new graduates (persons)
35
-
Percentage of employees with disabilities (As of the end of March 2021)*6
2.63
-
Number of employees with disabilities (persons)
106
187
Number of reemployed retired workers*7 (persons)
289
165
Job retention rate and Number of staff leaving
Olympus
Corporation
Overall Japan
Subsidiaries*1
Job retention rate (Only full-time employees)*3
87.02
89.31
Breakdown
Men
88.54
90.86
Women
82.35
87.50
Job retention rate for new graduates*4 (%)
95.63
90.78
Breakdown
Number of new graduates (FY2019) (persons)
252
206
Number of those who remain the company as of March 2021. (persons)
241
187
Number of staff leaving (FY2021) (persons)
628
294
Breakdown
Of which number of voluntary leavers
275
223
Men
30s and younger
41
84
40s and older
203
75
Women
30s and younger
6
44
40s and older
25
20
Work-Life Integration
Olympus
Corporation
Overall Japan
Subsidiaries*1
Number of employees taking childcare leaves*8 (persons)
124
237
Breakdown
Men
29
35
Women
95
202
Work-at-home system users*9 (persons)
4,775
6,007
Breakdown
Men
3,725
4,537
Women
1,050
1,470
Average overtime hours (hours/fiscal year)
78.9
71.9
Average number of paid holidays actually taken (days/fiscal year)
11.4
10.4
*1 The following 14 companies: Olympus Medical Science Sales, Nagano Olympus, Aizu Olympus, Aomori Olympus, Shirakawa Olympus, TmediX, Olympus Digital System Design, Olympus Terumo Biomaterials, Olympus Memory Works, Olympus Logitex, Olympus-Supportmate, AVS, Olympus Systems, and Olympus RMS.
*2 Includes both new graduates and midcareer employment.
*3 The percentage of those who remain in the company as of March 31, 2021, out of those employed in FY2019 (including new graduates and mid-career employment).
*4 The percentage of those who remains in the company at March 31, 2021 out of those employed as new graduates in April 2018.
*5 Including on-loan in the Group.
*6 Eight special-purpose subsidiaries (Olympus, Olympus Medical Systems, Olympus Medical Science Sales, Nagano Olympus, Aomori Olympus, Shirakawa Olympus, Aizu Olympus, Olympus- Supportmate)
*7 Number of reemployed retirees.
*8 Taken in FY2021.
*9 Measures to prevent the spread of COVID-19 and work restriction were implemented this fiscal year, and so many employees used the work-at-home system temporarily.
* Figures are for full-time employees unless otherwise stated.