Endoscope class
In 1950, Olympus succeeded in developing the world's first gastroscope. Utilizing the unique strengths of the company that leads the global endoscope market with technology originating in Japan, Olympus offers endoscope classes to help children expand their learning opportunities.
We have developed tailored programs for elementary, junior high, and high school students at each learning stage, based on advice from various educational institutions, which foster children's ability of responding to the rapidly changing society. In cooperation with local boards of education, we offer on-site classes using endoscope-related equipment at schools near our facilities. Launched in 2016, we have provided endoscope classes to over 5000 children.
[For junior and senior high school students] Observing & Treating inside the body "Endoscope Class"
This program can be used as learning opportunities such as "cancer education", "the Period for integrated studies", "STEM education" and "career education", which are included in the New Curriculum Guideline. Through learning about the following contents; the history of development of endoscope, the structure and role of endoscopes, the early detection and treatment of cancer, the experience of manipulating endoscopes, messages from engineers, students can learn about how the most advanced endoscopes have been developed and how medical technologies are being utilized in society.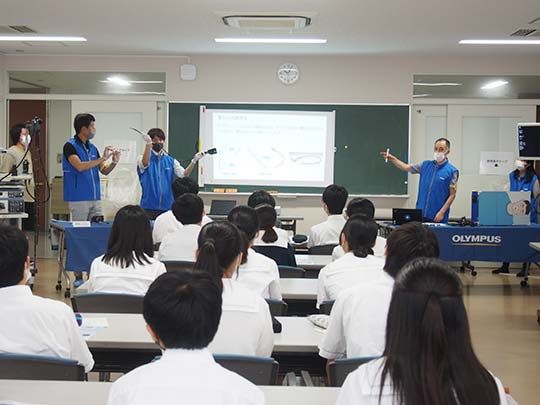 Scene from lecture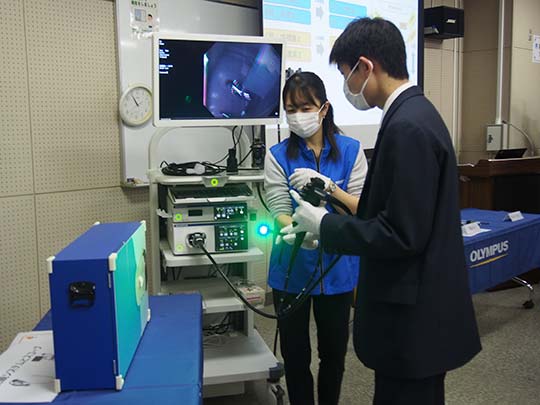 Endoscope operation experience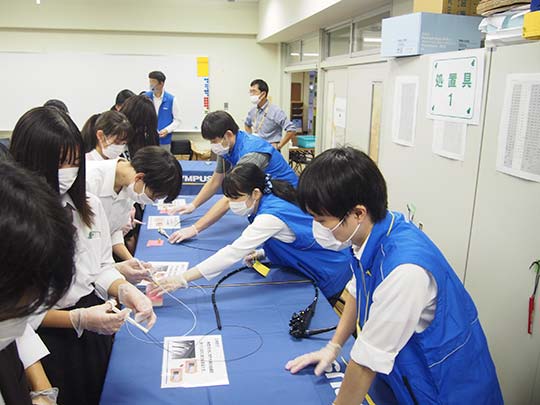 Treatment tool operation experience
[For elementary school students] Endoscope kids class
To help students learn about endoscope that contributes to maintaining our health through the early detection and treatment of cancer, we offer classes in cooperation with educational institutions and schools as part of cancer education and the period of integrated studies. The role of endoscope, prevention of cancer, and the history of endoscope are explained to elementary school students in an easy-to-understand manner through lectures and operation experience of endoscopes.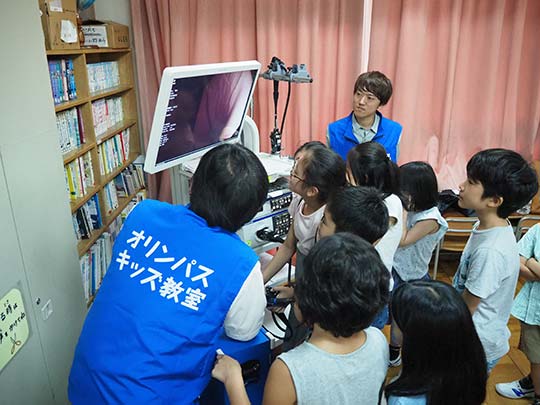 Endoscope operation experience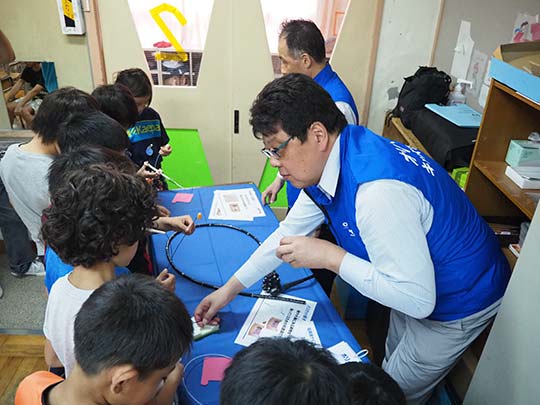 Treatment tool operation experience