An experience with colorectal endoscopic submucosal dissection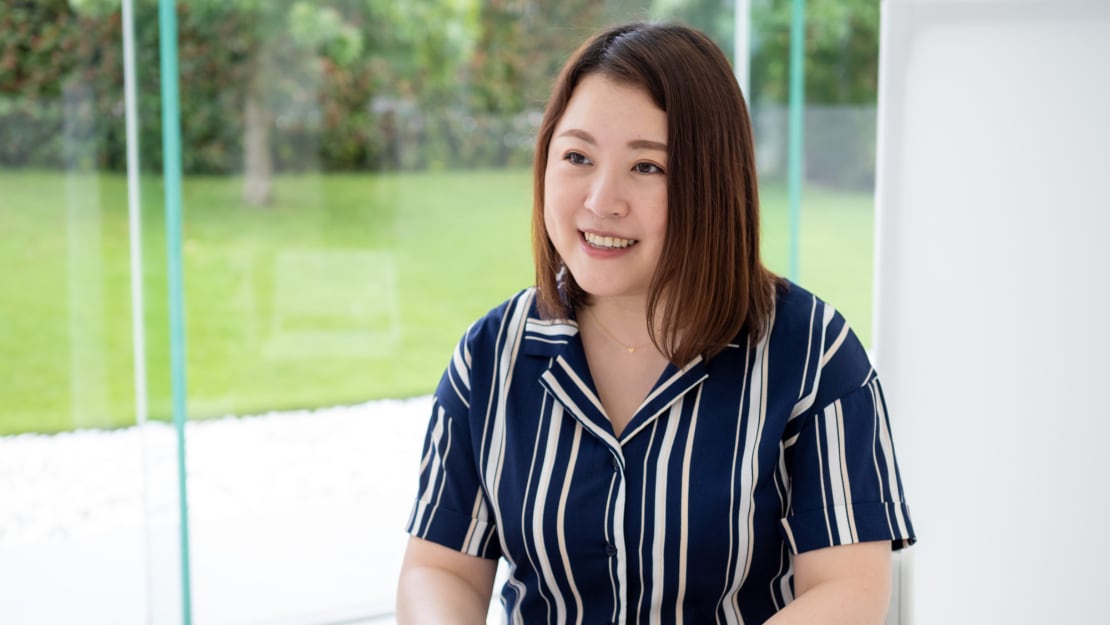 Namino's Story
At a routine company physical check-up, Namino, a member of Olympus' Communications Department, underwent a colonoscopy which detected a flat polyp that had spread horizontally on her intestinal wall. After a subsequent follow-up, she underwent colorectal endoscopic submucosal dissection (ESD), a type of endoscopic treatment, to remove the polyp. We spoke to Namino about her experience with endoscopy and treatment, and how it has changed her perception on testing.
First colonoscopy finds polyps
At the age of 35, Namino underwent her first colonoscopy during a company physical examination. While she had no subjective symptoms, she simply thought it'd be worthwhile to take advantage of the opportunity – this casual decision which turned out to be an important one. During that first examination, doctors detected a relatively large polyp, over 20 mm in diameter, on her intestinal wall. While her doctor noted that it likely a benign polyp, she was advised to carry out a thorough examination yearly. At its size, the polyp was beyond the size that could be removed by endoscopic surgery such as endoscopic polypectomy or endoscopic mucosal resection (EMR).
Opting for colorectal ESD: "Nothing beats early removal"
Namino continued to undergo periodic examinations and follow-ups for some time, but the size of the polyp remained unchanged. Three years after the initial diagnosis, a large hospital recommended that she undergo a procedure as the doctors there worried that due to its size, the polyp should not be allowed to worsen. When she visited a university hospital for another opinion, the doctor there recommended a colorectal ESD because the polyp was of a flat, spreading type. "The chance of the polyp becoming cancerous was not zero, and if it was going to be removed anyway, the sooner the better," said Namino, who agreed and decided to undergo surgery to have the polyp removed.
No hesitation or anxiety about undergoing endoscopic surgery
"I knew that compared with open abdominal surgery, endoscopic removal of colorectal polyps is less stressful on the body," Namino said, explaining why she was able to make a confident decision about having the ESD procedure. "That was the biggest factor for me." Colorectal ESD is a relatively new procedure compared with other procedures on the upper regions of the gastrointestinal tract such as the stomach and esophagus. Additionally, the complex shape of the large intestine coupled with a thinner intestinal wall than that of the stomach and other organs makes the procedure more difficult to perform. "Still, I was not particularly anxious," noted Namino. The reason for this was Namino's experience during her medical marketing days. "In Medical Marketing, I got to meet brilliant doctors who are passionate about ESD, as well dedicated people from the Olympus development team who work tirelessly to develop new technology. Because of this experience, I did not feel anxious about undergoing endoscopic surgery," she said.
The physical burden is "almost similar to that of endoscopy"
For Namino's case, her hospital stay was five nights and six days. A patient is usually admitted to the hospital two days before surgery, and dietary restrictions and simple tests are performed the day before the surgery, followed by laxatives on the day of the surgery. Her surgery was performed in the endoscopy room and was completed in about 30 minutes. Similar to her endoscopy procedure, Namino was sedated during the surgery, and she recalls gazing hazily at the monitor in a semiconscious state. She only remembers having a vague sense of being operated on, and that there was virtually no pain. "It was almost the same feeling as the colonoscopies I had in the past."
I want to stress to family and friends the importance of testing
"Every time I see my parents, I ask them if they've been tested. Since working at Olympus, I have become very aware of the importance of regular examinations and early detection of lesions," said Namino. When she meets friends, she also shares her endoscopy and polypectomy experiences with them. Most of her friends in her age group have never had an endoscopy examination but when she talks about her experience, many respond positively to the idea of undergoing an examination. "It's convincing when you listen to an experience from a friend who's in the same generation as you are."
A few decades ago, it was a lot more difficult to undergo endoscopic surgery than it is today. Nowadays, however, if something requiring treatment (such as a lesion) is detected at an early stage, in many cases, it can be treated with minimally invasive endoscopy. "I am grateful to my surgeon and those who developed advanced endoscopic techniques," said Namino. "If not for the endoscopy and early detection of my polyps, there's a possibility they might have turned cancerous before I found out about it. I certainly count myself lucky to have had treatment at an early stage."
Namino believes she was able to avoid the risk of polyps becoming cancerous through endoscopy and endoscopic surgery. As she wrapped up her story, she noted passionately: "I felt an immense relief after the surgery. Based on my experience, I now feel a sense of responsibility to proactively communicate and share with others the importance of testing regardless of which age group anyone is in."