Occupational Safety and Health, Health Management
Basic Approach and Policy
Introduction of Olympus Health Declaration
The Olympus Global Code of Conduct states that "Safe and healthy workplace is a major priority. We take proactive steps to prevent accidents and occupational illnesses at work and promote good health and wellness as well as work-friendly environment."
In Olympus and its Japan subsidiaries, we established the Olympus Health Declaration to help maintain and improve the health of employees and their families.
In line with the announcement of the Health Declaration, action to prevent passive smoking is to be made a priority. At the same time, we are introducing measures to help employees to become healthy and stay healthy, including advice with lifestyle improvements, recommendations and financial assistance with screenings to catch cancer at an early stage, and how to avoid mental health problems.
In this way, the Olympus Group wants to create a corporate culture that encourages employees to be healthy, both physically and mentally and for everyone to lead healthy and happy lives.
Olympus Health Declaration
Realization of a Better Livelihood and Happiness
Our corporate philosophy is to contribute to society by "Making people's lives healthier, safer and more fulfilling." We believe this is possible with the support of healthy employees and their families with vitality.
Olympus places top priority on the health of its employees and their facilities through the following activities.
1. Olympus regards employee health as an important management issue and is committed to a corporate culture that places top priority on employee safety and health.
2. Olympus will continue to create a workplace environment where employees are able to work with vitality and good physical and mental health.
3. Olympus cooperates with the Health Insurance Association to support better health to each and every employee and their families.
Health Management System
In addition to the health management activities that form part of its industrial health and welfare program, Olympus and its Japan subsidiaries work with its Health Insurance Association to enable collaboration and coordinated action between the company and the Health Insurance Association. As an industrial health and welfare organization, we have maintained and strengthened our health management system by appointing dedicated industrial physicians, health care workers and health supporters proportionate to the scale of the facilities. Specifically, monthly meetings are organized for dedicated industrial physicians, at which they discuss the health conditions of employees, conduct reviews to share health condition and address problems together with healthcare workers and health supporters. In addition, industrial physicians and health supporters are working to upgrade their competences as specialists through the specialist qualification program for physicians under the Japan Society for Occupational Health. Four of our specialists presented case studies and researched presentations given at the Society (FY2021) to improve their skills. In addition to internal training programs for specialists, we accept university students studying medicine and nursing as trainees each year (six medical university students and nine nursing students in FY2021), to support the development of the next generation of specialists in industrial health and welfare.
Initiatives
Health Improvement Activities (Japan)
Recognized under White 500, the 2021 Certified Health and Productivity Management Organization Recognition Program
Olympus's activities in employee health management, implemented strategically from a management point of view, have won five-year consecutive recognition since 2017 from White 500*, the Certified Health and Productivity Management Organization Recognition Program. In 2021, Aizu Olympus Corporation was listed in the Certified Health and Productivity Management Organization Recognition Program, and Olympus Medical Science Sales Co., Ltd. was listed in the White 500 of the Program.
Our health management is actively promoted through a combination of industrial health activities, which include health guidance based on health examinations results and a range of mental health services, and activities led by our health insurance association, such as awareness-raising about lifestyle disease prevention and promotion of cancer screening tests using endoscopes.
We plan to continue to work in cooperation with the Health Insurance Association, for continuing effort in building a better working environment and good health for both the employees and their families. We intend to work actively in promoting health among employees of the Japan subsidiaries and to contribute to society through promotion of health among its customers through our business activities.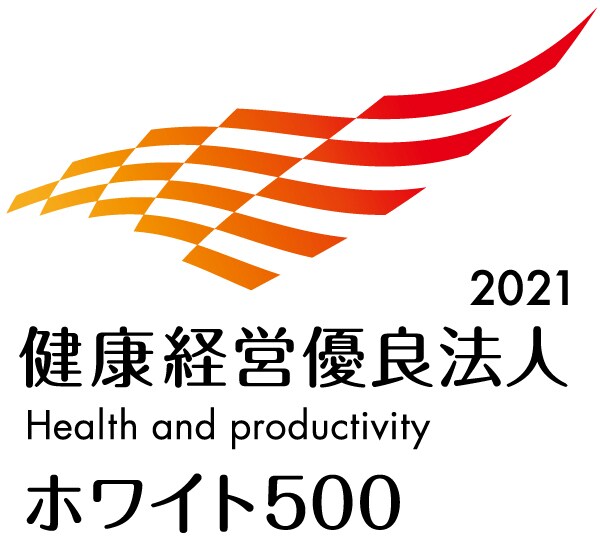 Olympus Corporation
Olympus Medical Science Sales Corp.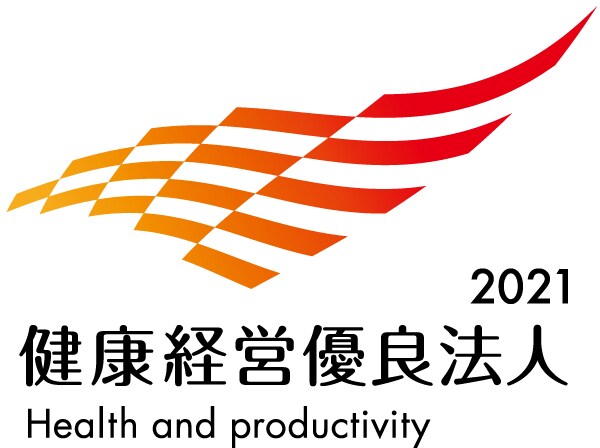 Aizu Olympus Co., Ltd.
* White 500 organized jointly by the Ministry of Economy, Trade and Industry and Nippon Kenko Kaigi, is a certification program to highlight outstanding large enterprises engaging in efforts to advance health and productivity management.
Health Examinations, Health Promotion, and Health Counseling
Olympus and its Japan subsidiaries cooperate with the Health Insurance Association regularly to upgrade their lineup of health examinations.
To contribute to the prevention of lifestyle diseases, we hold various events such as exercise seminars and quit smoking programs. We also provide physical and mental health counseling services through cooperation with external organizations.
* Most events are currently provided online due to the COVID-19 pandemic.
* Health counseling services are accessible by both employees and their families.
Cancer Screening
Olympus is also enhancing its cancer screening program of endoscopic screenings for the early detection of cancer. Such promotion includes full financial assistance of cancer screening by the Health Insurance Association for employees and their families; maintaining a high screening rate for endoscopic examinations (71% for gastrointestinal endoscopy and more than 61% for colonoscopy); and not setting age limitations for gynecological examinations for employees and families for the early detection of cancer.
We utilize a cancer screening call/recall program*, in which examinees for the current fiscal year are encouraged to take screenings following a certain set of criteria based on previous examinations. Further, we provide a Cancer Education E-learning program for employees each year to raise cancer awareness and encourage cancer screening.
* Call/recall system: A system to automatically send emails to examinees selected based on previous screening data to advise on taking a further cancer screening.
Cancer Screening (screening rates*)
Examination
Item
Gastrointestinal endoscopy
Colonoscopy
Lung cancer screening
(CT)
Breast cancer
screening
(breast
ultrasonography)
Breast cancer
screening
(mammography)
Cervical cancer screening
(cervical cytology)
Abdominal ultrasonography
Screening
rate (%)
71.1
61.5
33.7
56.7
26.6
65.5
84.8
* Screening rate: Number of people who actually take an examination within the encouraged yearly interval set for a specific cancer divided by the total number of examinee candidates.
* Data for the imaging business, which was transferred in January 1, 2021, are not included.
Cancer Screening Test Support System
Examination Item
Target
Health Insurance
Cost Subsidy
Years Consultation
Encouraged*
Stomach cancer
(endoscope)
35 years and older
100% coverage
Once every two years
Stomach cancer
(pepsinogen examination)
35 years and older
100% coverage
Year that Gastrointestinal
endoscopy is not undertaken
Colorectal cancer
(endoscope)
35 years and older
100% coverage
Once every three years
(40 years and older)
Colorectal cancer
(fecal occult blood test)
35 years and older
100% coverage
Year that Colonoscopy is not undertaken
Breast cancer/Cervical cancer
Women of all ages
100% coverage
Once every two years
Prostate cancer
(PSA marker)
Men 50 years and older
100% coverage
Once every two years
Abdominal ultrasonography
40 years and older
100% coverage
Once every two years
Lung cancer
(lung helical CT)
40 years and older
50% (Limit of ¥5,000 including tax)
Individual decides whether
to receive health exam
*Consultation encouraged: For those who have not yet taken the exam for certain period from the target age (those who have not yet taken an exam within the encouraged yearly interval).
Preventing Mental Health Problems
Self-care
Mental health training such as e-learning programs, mental toughness seminars, etc., for employees.
Interviews for all new employees and midcareer employees
Line care
Activities to support employees in the workplace, such as mental health seminars for managers.
Care by industrial
health care personnel at
business sites
Consultation and daily care service provided by industrial doctors and other health staff. Activities organized by industrial healthcare workers in cooperation with the Human Resources Division for the returning to work program for those with health problems.
Care provided by
resources outside the
business site
Consultation service and seminars provided by external psychologists
In addition, we are holding training workshops conducted by psychiatrists and other specialists in clinical practice for healthcare workers and nurses to support mental health care for employees.
We conduct the statutory stress checks all together in Olympus and its Japan subsidiaries. In fiscal 2021, the participation rate was 95%, with appropriated interviews and personalized follow-up provided according to results for early response if necessary. We continue to review its effective application, as part of our mental health program.
Activities to Quit Smoking
As a part of passive smoking prevention, ban on smoking inside all buildings and structures at business sites belonging to Olympus and its Japan subsidiaries was accomplished by the end of March 2020, and smoking was also prohibited within all premises by the end of March 2021. We also run the Quit-Smoking Marathon program, through which the health care personnel support those employees wanting to quit smoking. Also, the Health Insurance Association provides an online quit smoking program, covering expenses in full. Thanks to these efforts, the smoking rate decreased to 16.9% as of the end of March 2021.
Smoking Rate (average in Japan)*
End of March 2018 (at the start of activities)
22.0%
End of March 2019
20.0%
End of March 2020
18.4%
End of March 2021
16.9%
* Data for the imaging business, which was transferred in January 1, 2021, are not included.
Action on Infectious Diseases
The following activities are being conducted to prevent infectious diseases.
Hepatitis B antigen/antibody tests and vaccination to medical professionals
Education programs on infection prevention to all employees who visit medical institutions
Vaccination of employees traveling overseas on business assignments and accompanying family members (vaccines recommended for the destination region)

Examples: Hepatitis A, hepatitis B, tetanus or DTP vaccination

Partial coverage of expenses for influenza vaccination
Starting in FY2020, rubella antibody test conducted with the health examination (in response to additional action on rubella announced by the Ministry of Health, Labour and Welfare for men born between 1962 and 1978)
Olympus's Response to COVID-19 (including safety and health)
Preventing Lifestyle Diseases
Activities under the Specific Health Guidance program are being conducted to prevent lifestyle diseases. Specific health guidance for Olympus and its Japan subsidiaries is provided by healthcare workers and nurses working in the health management offices of each company, through counseling and guidance. In the past, we have provided personalized exercise guidance to employees, but we now share online videos to promote exercising. The scope of this online exercise was widened to include all employees and due to these efforts, we were selected as a Sports Yell Company 2022* certified by the Japan Sports Agency.
In addition, some facilities introduced healthy cuisine created by healthcare workers and nurses at employee dining halls. Healthy dishes have been developed and are provided on request to employees in the Specific Health Guidance program.
* The Japan Sports Agency certifies companies that proactively encourage their employees to participate in sports for health promotion as "Sports Yell Companies." Olympus, Olympus Marketing, inc. and OlympusTerumo Biomaterials Corp. were certified as a Sports Yell Company 2022.
Health Promotion Activities and Campaigns
To foster greater awareness and provide support for employees to manage their health, the portal site WellsPort Navi was introduced under the initiative of the Health Insurance Association to promote health management for individual employees in Olympus and its Japan subsidiaries. In this portal site, various health campaigns have been actively organized, including campaigns for walking, weight control during new year holiday, stopping smoking and dental health.
Effective activities are being introduced, such as the formation of groups at some facilities run by employees who have participated in internal exercise seminars and plan to continue exercising.
Support for Treatment and Continuing to Work
To help employees who are undergoing treatment to retain financial stability and continue their outpatient treatment and to raise employee incentive, various support programs have been introduced, including paid leave, flexible working hours and work-at-home system. To provide greater employee assistance, a special leave program was introduced in April 2020 for employees suffering from a disease for which the Ministry of Health, Labour and Welfare recommends support.
Health Management for Expatriate Employees
In addition to the statutory health examinations for expatriate employees required on departure and return to Japan, employees can have a health examination (for the items in the complete medical examination) during a temporary return to Japan. Health management is provided not only for the employee but also for their family members.
Industrial physicians, healthcare workers and nurses are assigned to provide everyday health counseling before departure and on returned to Japan. A health counseling service is offered not only to expatriate employees but also to their families.
Also, industrial physicians are dispatched on a regular basis to overseas subsidiaries to upgrade the quality of health management for expatriate employees.
Health Improvement Activities (Outside Japan)
Activities in North America
Cigna - Mental Health First Aid Training program
(Olympus Corporation of the Americas U.S.A)
The Cigna Mental Health First Aid training is designed to teach participants how to identify, understand and respond to signs of mental illness and substance use disorders. This training provides the skills needed to reach out and provide initial support to someone who may be developing a mental health or substance use problem and help connect them with appropriate care.
New Year's Commit to Be Fit Walking Challenge
(Olympus Corporation of the Americas U.S.A)
We aim to be an employer that is True to Your Life, and that means prioritizing your wellness. Our walking challenges focus on and support a culture of healthy living, and employees are encouraged to stay true to their health and wellbeing throughout the year. The New Year's Commit to Be Fit Walking Challenge ran for 35 days from January 18 – February 21. This 5-week challenge averaged out to 8,000 steps per day.
Activities in Europe
Colorectal Cancer Awareness
(Olympus Europa SE & Co. KG Germany)
Olympus Europa SE & Co. KG (OEKG) provides employees with the opportunity to a fecal occult blood test for colorectal cancer where early detection and early treatment are important. In cooperation with a local NPO, an event was organized for employees to promote greater awareness of colorectal cancer.
Quit smoking program
(Olympus Europa SE & Co. KG Germany)
Employee health is a top priority for Olympus. This is why the company supports all Olympus Europa SE & Co. KG and Olympus Deutschland GmbH colleagues throughout Germany in quitting smoking. This also applies to users of e-cigarettes and so-called heets. If interested and requested, the employer pays the costs for different seminar and therapy formats that are offered by external Olympus partners
Activities in China
Injection of influenza vaccine
(Olympus(Beijing) Sales & Service Co.,Ltd.)
In step with the arrival of the influenza season, we carried out a full influenza vaccination program again this year, in recognition of the importance of employee health management. Employees who were vaccinated by their local doctor or clinic were reimbursed on submitting an expense claim form.
Activities in Asia/Oceania
Health & Wellbeing Committee
(Olympus Australia & New Zealand)
Over the years various health and wellbeing initiatives have been organized by HR and Corporate Communications. However, at the beginning of FY2021, OAZ identified a need to not only improve the current offerings, but also to promote and maintain the wellbeing of our employees in more structured way. The COVID-19 pandemic highlighted just how important it was to ensure the total wellbeing of our employees are strongly supported. Therefore, a cross-functional committee was formed, comprising of employees across various departments and locations, who are all passionate about ensuring health and wellbeing is made an organization-wide priority. The committee created a vision, mission, purpose and strategy.
Olympus Western Seaboard 10,000 Steps Tournament
(Olympus Australia & New Zealand)
Due to the COVID-19 pandemic, for most of 2020 the majority of OAZ employees worked from home. This presented both physical and social connection challenges given most staff members did not spend as much time being active by walking around the office, and from a social perspective were also isolated from their colleagues. Local COVID-19 restrictions were also in place, meaning many employees were not permitted to do the physical exercises they would normally do, such as going to the gym. The Health & Wellbeing Committee decided to run a company-wide tournament whereby over a four week period, teams would aim to walk 10,000 steps per person per day, from Perth to Broome in Western Australia, with the ultimate goal of being the first team to reach the final destination. This initiative encouraged employees to increase their steps around their home or walk outdoors (which was permitted during COVID-19 lockdowns), in addition to some friendly competition which contributed to positive social connection.
Supporting Government to control COVID-19 spread
(Olympus Medical Systems India Private Limited)
With COVID-19 spreading through India at a spectacular speed, OMSI provided support to the Haryana state government where Gurgaon is located for the prevention and control of COVID-19. The specific support activities were as follows.
1- Antigen Test Kit
2- Viral Transport Medium Kit
3- 12 numbers of canopy Tent for putting up Covid-19 Testing camps
4- 3 Rental minivan Eeco required for three months (January, February, March 2021) for Covid-19 Samples transportation and Lab Technician pick up and drop from various Gurgaon Camps