Flash Diffuser FD-1*1 for Olympus Stylus TG-4 Tough
greatly enhances the expressive power of macro shootingFirmware update, Version 2.0 for TG-4
March 29, 2016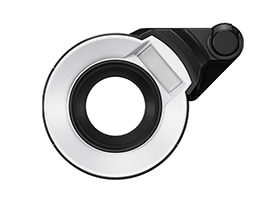 Flash Diffuser, FD-1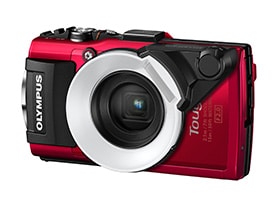 TG-4 with Flash Diffuser, FD-1
---
Olympus Corporation (President: Hiroyuki Sasa) is pleased to announce the Flash Diffuser, FD-1*1, scheduled to go on sale from April 28, 2016. This is exclusively used for the Olympus Stylus TG-4 Tough, the Tough series flagship model that boasts a high-speed f2.0*2 lens in addition to the five Tough capabilities of waterproof, dustproof, shockproof, freezeproof, and crushproof. The latest firmware of Version 2.0 for the Olympus Stylus TG-4 Tough is also scheduled to be released.
Sales Outline
Category
Product Name
MSRP
Launch Date
Compact digital camera accessory
Flash Diffuser, FD-1
7,500 yen
(8,100 yen incl. tax)
April 28, 2016
Flash Diffuser, FD-1*1
Flash Diffuser, FD-1*1 is a system accessory that uses a circular distributed reflective surface to illuminate the subject evenly in close-up shooting where it is difficult for the light from the built-in flash to surround the subject. It widens the possibilities of Microscope mode, a feature of the Stylus TG-4 Tough. The momentary light of the flash enables firm control of subject shake, which can easily occur during macro shooting in dimly lit locations. A light output switching lever is provided at the top of the FD-1*1 to enable dimming in approximately 1.4 steps with respect to the standard level, for greater lighting control. Making the difference in exposure level between the background and subject illuminated with the flash, it is possible to darken the background and make the subject stand out better. Furthermore, shooting with low ISO sensitivity enables high-quality images with reduced noise. It is easy to achieve creative SLR-comparable macro shooting of insects, plants and other nature photography and tabletop photography.
The FD-1*1 can be mounted to the body with the Silicone Jacket, CSCH-122 attached to prevent damage to the body during outdoor photography.
Other Features
Compact size for easy portability even when mounted
Single-action mounting and removal, and easy setup when shooting
Usable underwater*3
Specifications for FD-1
| | |
| --- | --- |
| Compatible model | Olympus Stylus TG-4 Tough |
| Usable focal length | 5.5 to 18mm (35mm equivalent: 30 to 100mm) |
| Effective flash range (in Microscope mode) | 20 to 300mm |
| Size | 80.6mm (W) x 60.7mm (H) x 19.8mm (D) |
| Weight | 20g |
* Specifications are subject to change without notice
*1 Using the camera with the FD-1 mounted cannot guarantee shockproof or crushproof performance under Olympus testing conditions. Use with the camera flash. The FD-1 itself does not flash. The camera LED light is not usable.
*2 At the wide angle of a focal length of 25 mm (35mm equivalent)
*3 After using underwater, rinse with fresh water and then thoroughly wipe away all moisture.
New feature added with Firmware Version 2.0 for Olympus Stylus TG-4 Tough
FD-1*1 is added to the Accessory Settings in the shooting menu. Fill-in flash fires in Microscope mode, and flash compensation (+/- 2.0EV in 0.3EV steps) is now available.
The exposure program in Microscope mode is optimized for the FD-1*1, and a low ISO sensitivity is set automatically for high-quality shooting with low noise.
Shooting settings can now be saved in A, P, and Microscope modes.
Enable to capture up to 299 shots in interval shooting.
File name memory can now be selected from Reset or Auto.
NOTICE

Updating the firmware to Version 2.0 resets the camera settings.
For information on how to update the firmware, see the Olympus support and download page.
Press releases are company announcements that are directed at the news media.
Information posted on this site is current and accurate only at the time of their original publication date, and may now be outdated or inaccurate.
Company names and product names specified are trademarks of their respective owners.