New Olympus Ultra-Portable EPOCH® 6LT Flaw Detector Provides Comprehensive Flaw Detection Capabilities for Rope Access and High Portability Inspections
June 30, 2017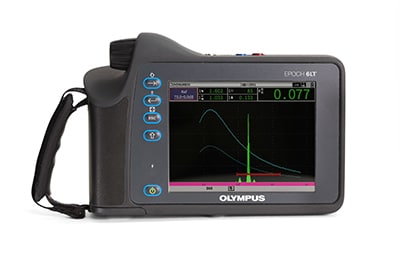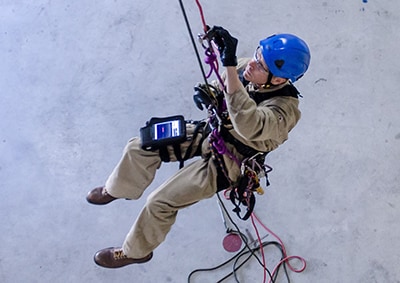 ---
The design of the EPOCH 6LT flaw detector, from form factor to the user interface, is optimized for user comfort, making it easy to use with one hand, so rope access inspection technicians and users that require high portability can do their work comfortably and efficiently.
Fits securely in one hand with minimal wrist fatigue: weighs just 1.95 lbs (890 g) with a grip-oriented weight distribution
Attaches to a user's leg or harness: rope access technicians can secure the instrument for hands-free operation
Users can navigate the menu using just their thumb: the rotary knob and simple button design make it easy to navigate through the UI, even while wearing gloves
Durable and reliable: engineered to IP65/67 for dust and water resistance and drop tested to protect against the hazards found in challenging inspection environments
The EPOCH 6LT flaw detector's workflow is simple and straightforward so technicians can spend more time on their inspection and less time adjusting the instrument. Despite the instrument's small size, it has the features and functions to meet the requirements of nearly any conventional ultrasonic inspection application, including all the core functionality of the popular EPOCH 650 flaw detector and EN12668-1:2010 compliance.
Intuitive software: a two-screen, icon-based interface makes navigation quick and easy
Efficient inspections: the hardware and software maximize one-handed operation, so users can use their other hand to maneuver the probe
Optional corrosion software: combine the ease of use of a thickness gage with the flexibility of a flaw detector; with center-pin transducer ID for faster set up
Optional Wi-Fi connectivity: take advantage of on-the-go data backups, setup downloads, and powerful cloud applications on the Olympus Scientific Cloud
For rope access technicians, the EPOCH 6LT flaw detector offers features to help keep them safe during challenging inspections. For added efficiency, users can control the inspection parameters with one hand without interrupting flaw scanning. With the rope access accessory kit, technicians can secure the instrument to their leg or harness, leaving both hands free to maintain balance or adjust the probe. Depending on how the instrument is attached, the display rotates so users can properly view the A-scan and readings.
About Olympus
Olympus Corporation operates in industrial, medical, and consumer markets, specializing in optics, electronics, and precision engineering. Olympus is a world-leading manufacturer of innovative test and measurement solutions that are used in industrial and research applications ranging from aerospace, power generation, petrochemical, civil infrastructure, and automotive to consumer products.
For more information about the EPOCH 6LT flaw detector and Olympus' full line of nondestructive testing products contact a sales representative or visit www.olympus-ims.com
.
EPOCH is a registered trademark of Olympus Corporation.
Press releases are company announcements that are directed at the news media.
Information posted on this site is current and accurate only at the time of their original publication date, and may now be outdated or inaccurate.