Olympus Partners with University of Southern California for Realization of "Precision Medicine" Success in Three-Dimensional Analysis of Patient Derived Cell Model of Colon Cancer Aim to develop a decision process for optimal therapeutics and prevention strategies
January 8, 2019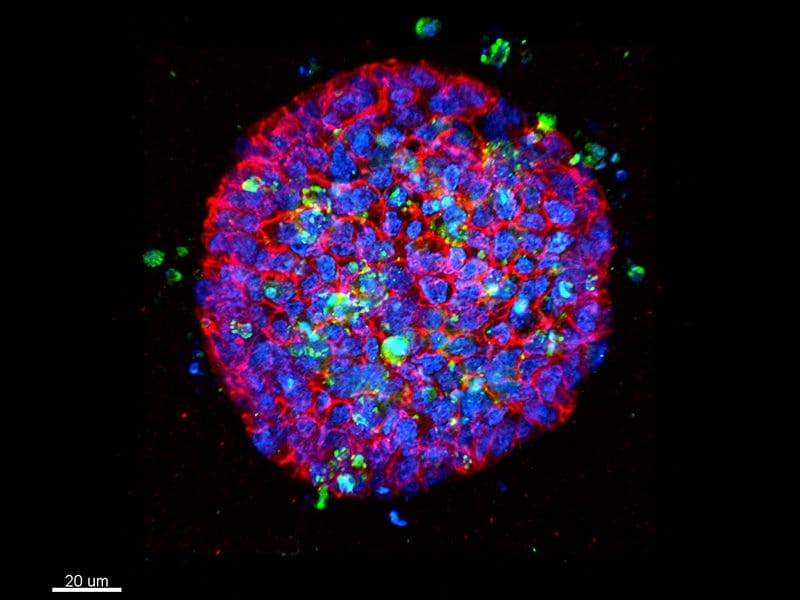 Colorectal cancer patient organoids show dynamic drug responses with protein kinase inhibitor treatment
Dead cells (both green and blue labeled) are detached from organoids. 3D organoid culturing - at the USC-Olympus Innovation Partnership in Multiscale Bioimaging – enables more true-to-life testing of anticancer drugs on patient-derived tumor samples in order to determine a personalized treatment regimen.
---
 Olympus Corporation (President and Representative Director: Hiroyuki Sasa) has announced a partnership regarding prevention, diagnosis, and treatment of cancer with University of Southern California (hereinafter referred to as "USC") from March 2017, to realize Precision Medicine*1 that is expected to provide optimal treatments for patients. As the first phase of the collaborative research, the USC-Olympus Innovation Partnership in Multiscale Bioimaging succeeded in establishing 3D imaging analysis of patient-derived cellular models ("organoids") of colon cancer. During its second phase, the partnership aims to establish and validate methods to acquire multifaceted data from 3D cellular models derived from large patient populations, toward the evaluation of a range of anti-cancer drugs. In the future, the USC-Olympus partnership aims to support clinical decision-making for optimal treatment strategies using samples acquired from individual cancer patients in real time. The new USC-Olympus Innovation Partnership combines Olympus technology with the expertise of two renowned labs at USC, the Lawrence J. Ellison Institute for Transformative Medicine2 and the Translational Imaging Center (TIC).
 Genetic studies are proceeding in cancer medicine, and it is known that hundreds of genes are involved in the onset and progression of cancer, and that gene expression pattern varies from individual to individual. For this reason, the study of Precision Medicine, which selects and administers the optimal therapeutic agents for individuals among many of anti-cancer drugs, has been advanced, rather than a one-size-fits-all approach, which is the conventional method. The research is being carried out to extract cancer cells from patients in order to select optimal therapeutics and treatment strategies from genetic information, environmental factors, lifestyle data and other data in the future.
 Through its innovation partnership with USC, Olympus is conducting collaborative research toward realization of Precision Medicine. Olympus provides its confocal laser scanning microscope "FLUOVIEW FV 3000" and 3-dimensional cell analysis software "NoviSight"3, toward multiscale bioimaging technology that will inform research on cancer prevention, diagnosis and therapy. The partnership will support research by analyzing the complex in vivo action occurring in the body of cancer patients by high-level analytical techniques such as 3D cell analysis and high content screening and analysis. Patient-derived samples are transformed into 3D tumor organoids in multi-well microplates to more accurately recapitulate physiological conditions as anti-cancer drugs are tested on them, providing significant advantages over 2D cultures or slide samples.
Background of the Innovation Partnership
 As part of contribution to cutting-edge research, Olympus has been developing imaging and analysis technologies that are effective in the field of drug discovery, and analysis techniques that lead to new diagnostic technologies. Olympus' commitment to research and development as well as a strategic goal to connect its various businesses, including microscopy, imaging and medical, led the company to this ideal academic partner in Precision Medicine in the U.S. The USC-Olympus Partnership in Multiscale Bioimaging furthers the strengths of two existing USC research institutes, The Ellison Institute, named after a $200 million donation by Larry Ellison, founder of Oracle, aims to change the way we treat and prevent cancer by driving transdisciplinary, patient-centered and nimble research programs with great promise to shape clinical care, and the TIC, with a mission to advance biological imaging for real-world impact. Olympus will provide innovative imaging technologies and solutions, including healthcare and scientific equipment as well as analytic solutions, to further real-world discovery in Precision Medicine.
About USC
 Founded in 1880, the University of Southern California (USC) is a leading global private research university located in Los Angeles — a center for arts, science and technology and international business. It is home to the College of Letters, Arts and Sciences and 21 exceptional academic schools and units, including the Translational Imaging Center. USC's Health Sciences campus houses renowned specialized care and research in cancer, stem cell and regenerative medicine, including the Lawrence J. Ellison Institute for Transformative Medicine. There are more than 400,000 USC "Trojan" alumni living across the world, including nearly 1,000 in Japan.
1 To select the optimal treatment method for individuals based on genetic information etc.
2 Transformative Medicine means process or effort to apply basic research to create new therapies or medical procedure.
3 This product is only sold in US.
Specifications are subject to change without notice. Company names and product names contained in this release are trademarks or registered trademarks of their respective companies.
Press releases are company announcements that are directed at the news media.
Information posted on this site is current and accurate only at the time of their original publication date, and may now be outdated or inaccurate.