Contributing to the Quality Consistency, Safety, and Efficiency of Endoscopic Surgery
"The Research and Development of Advanced Information-Assisted Endoscopic Surgery System" selected as a subsidized project by the Japan Agency for Medical Research and Development
October 25, 2019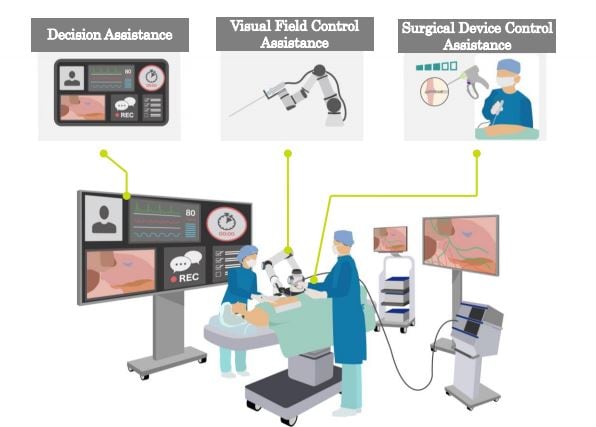 System diagrams
---
Olympus, a global technology leader in designing and delivering innovative solutions for medical and surgical procedures, among other core businesses, announced today the development of the "Digital transformation for surgery: advanced information-assisted endoscopic surgery system," which provides the information that helps to ensure safe and consistent quality of surgery by translating the tacit knowledge of skilled physicians in the endoscopic surgery field into data through AI analysis. This developmental theme was selected as a subsidized project by the Japan Agency for Medical Research and Development (AMED). The work will be conducted by 2023 at the latest in collaboration with the National Cancer Center Hospital East, Oita University's Faculty of Medicine, Fukuoka Institute of Technology's Faculty of Information Engineering, and the University of Tokyo's Faculty of Engineering (Graduate School of Engineering) as research and development contributors. It aims for its practical application in 2024 onward.
News Release Details
Press releases are company announcements that are directed at the news media.
Information posted on this site is current and accurate only at the time of their original publication date, and may now be outdated or inaccurate.