Scientific Paper on Texture and Color Enhancement (TXI)
Technology Awarded "Article of the Year 2021" in British Journal of Healthcare EngineeringPaper Details Featured Technology for Olympus' Latest Endoscope System EVIS X1 for Supporting Early Lesion Detection in Endoscopic Screening
December 2, 2022
TOKYO, December 2, 2022 - Olympus Corporation (Olympus), a global medtech company committed to making people's lives healthier, safer and more fulfilling, today announced that a scientific paper on its Texture and Color Enhancement Imaging (TXI) technology was awarded the "Article of the Year 2021" by Journal of Healthcare Engineering, a recognized British scientific journal.
TXI is one of the unique technologies featured in EVIS X1, Olympus' latest endoscope system. It was launched in 2020 with the aim of contributing to early detection, diagnosis, and minimally invasive treatment of gastrointestinal diseases such as cancer. This imaging technology optimizes the structure, color, and brightness of mucosal surface images under white light imaging observation. By recognizing subtle changes in color and structure of the endoscopic images in real-time, which are difficult to be observed under white light imaging, it is expected to contribute to enhancing the observation performance for suspicious tissues related to diseases such as gastric cancer and colorectal cancer.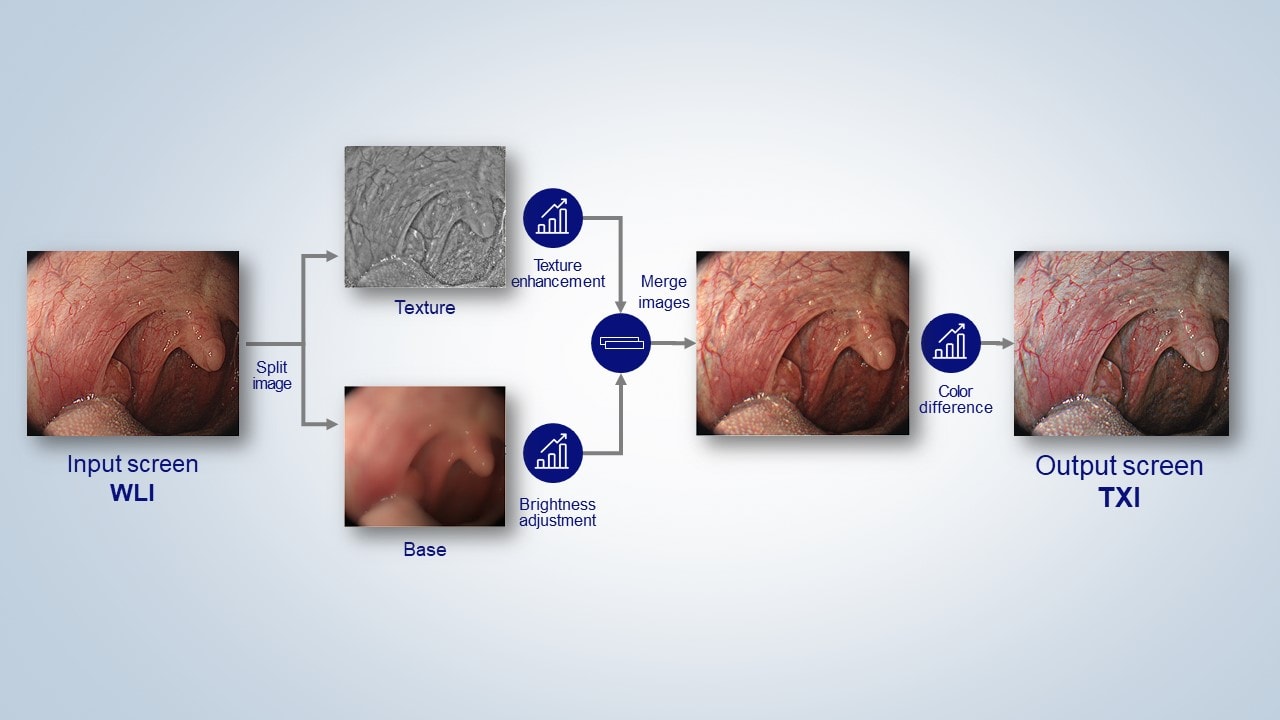 Olympus employees wrote a detailed account of the technology in a scientific paper in 2021, which was titled "TXI: Texture and Color Enhancement Imaging for Endoscopic Image Enhancement." In May 2022, the paper was selected as the Article of the Year 2021 by the Journal of Healthcare Engineering. The journal commented that "this paper presents the challenging issue of early lesion detection through endoscopic screening for reducing gastrointestinal cancer-related mortality. The analysis of the background is clear and exhaustive, and the proposed methodology is both detailed and convincing. The experimental validation is also thorough and the results are encouraging. The paper has already shown to be highly appreciated by the scientific community, and its impact in clinical practice is expected to be high."
Tomoya Sato, supervisor of Advanced Image Processing Technology in Olympus Medical Systems Corporation and the leading author of this paper commented, "I am honored to receive such an award. The technology described in this paper, TXI, was started to develop in response to engineers' desire to contribute even a little to solve the current problem of the existence of lesions that are difficult to detect during gastrointestinal endoscopy. We would like to thank the several departments such as R&D and marketing etc. at Olympus, as well as physicians, for their tremendous cooperation in developing TXI technology."
Yoshimichi Takahashi, Vice President of Gastrointestinal Endoscopy Business Unit in Olympus commented, "I would like to share the pleasure of this award with those who have been involved in technology development. We will continue to develop technologies aimed at solving these challenges in clinical settings and contribute to the early detection, early diagnosis, and minimally invasive treatment of cancer and other gastrointestinal diseases to support the health of people around the world."
About the Journal of Healthcare Engineering and its Article of the Year 2021
Journal of Healthcare Engineering is a peer-reviewed, Open Access journal publishing fundamental and applied research on all aspects of engineering involved in healthcare delivery processes and systems. It provides a vehicle for the exchange of advanced knowledge, emerging technologies, and innovative ideas among healthcare engineering researchers, engineers, managers, and consultants around the world. The Article of the Year 2021 recognizes the research or review articles published in 2021 that they consider to be exciting and impactful, as well as representative of the journal's research community and its current or future directions.
For details: https://www.hindawi.com/article-year-award-2021/
Company names and product names appearing in this news release are company trademarks or registered trademarks of their respective owners.
Note: Products or devices presented include future technology which may be pending regional regulatory approval and are not available for sale in all regions.
About Olympus' Endoscopic Solutions business
In its Endoscopic Solutions business, Olympus uses innovative capabilities in medical technology, therapeutic intervention and precision manufacturing to help healthcare professionals deliver diagnostic, therapeutic and minimally invasive procedures to improve clinical outcomes, reduce overall costs and enhance the quality of life for patients and their safety. Starting with the world's first gastrocamera in 1950, Olympus' Endoscopic Solutions portfolio has grown to include endoscopes, laparoscopes, and video imaging systems, as well as system integration solutions and medical services. For more information, visit www.olympus-global.com.
* Products or devices presented include future technology which may be pending regional regulatory approval and are not available for sale in all regions.
* The contents in this website including products availability, specifications or prices are the information as of the date of announcement and are subject to change without prior notice.
* Information is intended to be presented to the media, shareholders, investors, and other interested parties. Information about our medical products (including products currently under development) included in this website is not intended for advertising or medical advice.
* Olympus Corporation assumes no responsibility for any damage resulting from the use of this material.
* All company names and product names mentioned in this website are trademarks or registered trademarks of their respective companies. ® and TM marks are not specified in this website. All trademarks and registered trademarks are the property of their respective owners.