Olympus to Acquire Korean Gastrointestinal Stent Company Taewoong Medical Co., Ltd, Strengthening Gastrointestinal EndoTherapy Offerings Through Bringing Together Talent and Technology

February 24, 2023


Taewoong Medical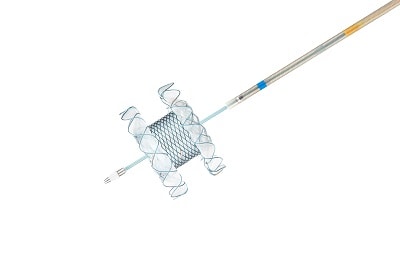 Niti-S Hot SPAXUS™ Stent & Electrocautery Stent Delivery System
---
TOKYO and SEOUL, February 24, 2023 - Olympus Corporation (Olympus), a global medtech company committed to making people's lives healthier, safer and more fulfilling, has agreed to acquire Taewoong Medical Co., Ltd, (Taewoong Medical), a Korea-based manufacturer of medical devices such as gastrointestinal (GI) metallic stents1 to strengthen its GI EndoTherapy product portfolio capabilities, and in turn, contributing to improving patient outcome through comprehensive solutions.
Taewoong will receive approximately $370 million in cash, of which $255.5 million will be paid at the closing and up to $114.5 million will be paid if future milestones is achieved. The company expects to complete the transaction on June 30, 2023, subject to customary closing conditions.
Incidences of biliary cancers, where metallic stents are frequently used as one of the treatments, have been increasing in recent years2 due to the aging population3. Metallic stents are often used to treat jaundice, one of the symptoms of an obstructed or narrowed biliary tract caused by biliary cancer. The stent allows for minimally invasive treatment4, which supports faster patient recovery.
Different types of stents are needed depending on the condition of the lesion and the patient's anatomy. Taewoong Medical, a leading manufacturer of GI stents, offers a variety of medical devices including metallic stents designed for biliary tract, esophagus, colon, and duodenum treatments5. GI stents are used to help clear occlusions or strictures by cancer or other diseases. Moreover, Taewoong Medical's metallic stents combine strong radial force with high flexibility6, which are both crucial requirements. This allows the stents to conform to the shape of anatomies such as biliary tracts and the esophagus, and even if curved, it is less likely for the stent to buckle, which reduces the risk of restenosis. Taewoong Medical has a wide range of high-quality stents realized through its unique design and technology capabilities, allowing healthcare professionals to use minimally invasive treatment with the most appropriate equipment for each patient.
Olympus is targeting GI as one of its key disease states, as outlined in its medical business strategy announced in December 2021. The addition of Taewoong Medical's medical devices to its product portfolio will enable Olympus to become a comprehensive solutions provider in the GI market with varied solutions in GI, contributing to improved patient outcomes and elevating the standard of care.
"Olympus' EndoTherapy Division is committed to providing a full portfolio of clinically differentiated technologies aimed at treating patients who suffer from GI disease, and with the acquisition of Taewoong Medical, this further demonstrates our commitment to this critical segment of our business," said Gabriela Kaynor, Global Division Head of Therapeutic Solutions Division at Olympus. "Taewoong Medical has developed a full portfolio of GI metal stents that will immediately enhance our already robust offering of GI devices. I'm proud to welcome Taewoong Medical's employees, and their commitment to the field of GI endoscopy to the Olympus' Therapeutic Solutions Division."
Kyong-min Shin, President and CEO of Taewoong Medical stated, "For over three decades, Taewoong Medical has been a leading manufacturer of GI stents, renowned for its innovative technology and diverse product range. Our company has a robust market presence in Korea, Japan, and Europe, and exports to 86 countries worldwide. Moving forward together with Olympus, Taewoong Medical will focus its capabilities to provide medical professionals and patients with superior products and services through continuous investment in R&D and manufacturing technology."
Moving forward, Olympus will continue to find and execute investments as well as expand its product and technology strengths through synergies with the products and technologies of acquired companies, ensuring that they capture maximum value through these integrations.
Overview of Taewoong Medical (as of Dec. 2022)
● Company name: Taewoong Medical Co., Ltd,
● Address: Gimpo-si, South Korea
● Established: 1992
● President and CEO: Kyong-min Shin
● Revenue: 6,790 million JPY7 (as of Dec. 2021)
● Operating income: 1,347 million JPY7 (as of Dec. 2021)
● Business: R&D and manufacturing of non-vascular metallic stents.
● Number of employees: 273
● Manufacturing: Gimpo-si, South Korea
● International footprint: Taewoong Medical currently sells in more than 80 geographies.
1 A medical device made of a metallic mesh tube that is placed for dilating a stenosis within a tract such as biliary, esophagus, colon and duodenum.
2 Guoqing Ouyang MM et al., "The global, regional, and national burden of gallbladder and biliary tract cancer and its attributable risk factors in 195 countries and territories, 1990 to 2017: A systematic analysis for the Global Burden of Disease Study 2017"
3 https://ourworldindata.org/grapher/historic-and-un-pop-projections-by-age
4 Jin-Seok Park, Seok Jeon, Don Haeng Lee "Recent Advances in Gastrointestinal Stent Development"
5 Products or devices presented include future technology which may be pending regional regulatory approval and are not available for sale in all regions.
6 Isayama H, Nakai Y, Hamada T, et al. : Understanding the Mechanical forces of Self-Expandable Metal Stents in the Biliary Ducts. Curr Gastroenterol Rep 18 : 64, 2016.
7 Calculated at the exchange rate of JPY 10.61 per 100 KRW (exchange rate as of the end of January 2023).
About Taewoong Medical
For over thirty years, Taewoong Medical has been dedicated to advancing medical technology and improving patient quality of life through the production and delivery of high-quality and innovative minimally invasive medical devices. Our flagship product, the Niti-S™ gastrointestinal stent, has been widely recognized as a pioneering and innovative solution, fulfilling the diverse needs of healthcare professionals globally. As our business continues to grow, we are expanding into new areas such as endoscopic instruments, interventional radiology and neurology devices, and pulmonary valves, with the aim of further improving patient outcomes. For more information, visit www.taewoongmedical.com.
About Olympus
As a leading medical technology company, our medical business uses innovative capabilities in medical technology, therapeutic intervention, and precision manufacturing to help healthcare professionals deliver diagnostic, therapeutic, and minimally invasive procedures to improve clinical outcomes, reduce overall costs, and enhance the quality of life for patients. Olympus' medical portfolio includes endoscopes, laparoscopes, and video imaging systems, as well as surgical energy devices, customer solutions, medical services, and a wide range of EndoTherapy instruments for endoscopic and therapeutic applications. For more information, visit www.olympus-global.com and follow our global Twitter account: @Olympus_Corp.
* Products or devices presented include future technology which may be pending regional regulatory approval and are not available for sale in all regions.
* The contents in this website including products availability, specifications or prices are the information as of the date of announcement and are subject to change without prior notice.
* Information is intended to be presented to the media, shareholders, investors, and other interested parties. Information about our medical products (including products currently under development) included in this website is not intended for advertising or medical advice.
* Olympus Corporation assumes no responsibility for any damage resulting from the use of this material.
* All company names and product names mentioned in this website are trademarks or registered trademarks of their respective companies. ® and TM marks are not specified in this website. All trademarks and registered trademarks are the property of their respective owners.