Olympus to Launch Development Support Project in Kenya
for the Diagnosis of Gastrointestinal DiseasesSelected by the National Center for Global Health and Medicine under the Ministry of Health, Labour and Welfare, Japan as "Projects for Global Growth of Medical Technologies, in 2023"
July 20, 2023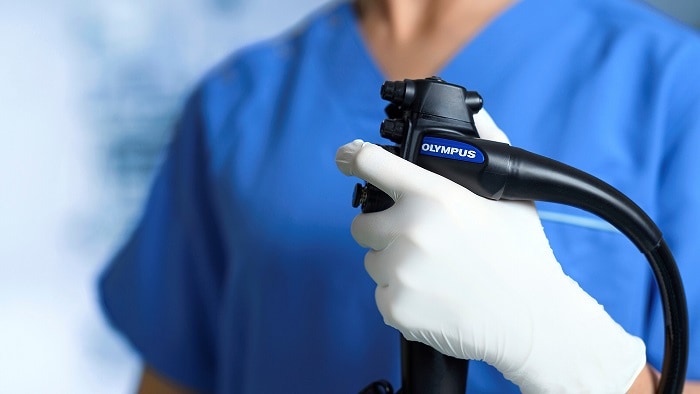 ---
TOKYO, July 20, 2023 - Olympus Corporation (Olympus), a global MedTech company committed to making people's lives healthier, safer and more fulfilling, today announced the launch of the "Kenya Endoscopy Human Resource Development Support Project for the Diagnosis of Gastrointestinal Diseases" to promote endoscopic care in Kenya, where there is a shortage of endoscopists. This program is funded by "Projects for Global Growth of Medical Technologies, in 2023" conducted by the National Center for Global Health and Medicine under the Ministry of Health, Labour and Welfare, Japan.
Olympus will conduct this project from July 2023 to January 2024 at Kenyatta National Hospital, a leading medical education institution in Kenya, in addition to other major medical institutions, including seven that received the latest endoscopic equipment provided by the Japanese Official Development Assistance (ODA) last year. Japanese physicians affiliated with the partner institutions will serve as lecturers and both train Kenyan doctors directly and instruct on how to train the next generation of endoscopists.
At the kick-off meeting on July 14, Elly O. Ogutu, M.D. from Nairobi Gastroenterology Training Centre, Kenyatta National Hospital said, "There is an increase of cancer cases in Kenya. It is my sincere hope that the project will be a great success and expand in the future to incorporate more areas in gastroenterology needing endoscopy services."Dr. Tomohiko Moriyama, Director of Telemedicine Development Center of Asia, International Medical Department, Kyushu University, also commented, "It is our hope that, through this project, Japan and Kenya will share knowledge and experience in the field of digestive system diseases, and thereby improve the level of medical care in each other's countries and further deepen the friendship between the two countries."
Background of Olympus' Participation
In Kenya, the proportion of non-communicable diseases as a cause of death has been growing. Cancer is now the third-highest leading cause of death in the country, and esophageal, colorectal, and gastric cancers are the leading causes of gastrointestinal-related morbidity and mortality cases. In response to this social problem, the Kenyan Ministry of Health established a basic policy against cancer in 2019 and is currently strengthening its efforts by setting target screening figures for colorectal cancer for citizens aged 45 and older. However, while the demand for endoscopic screenings, which are essential for the early detection and treatment of cancer, is expected to increase, there is a shortage of physicians with the advanced knowledge and skills required for these examinations. Furthermore, there is a need to improve the standard of endoscopic care by enhancing the knowledge and skills of physicians. Olympus applied to be part of the Japanese government's "Projects for Global Growth of Medical Technologies, in 2023" to contribute to the early detection and treatment of gastrointestinal cancers. This includes the international deployment of Japan's latest medical technology through the training of Kenyan doctors, as well as helping to solve Kenya's medical issues and assisting in the development of medical care.
Purpose of the Projects for Global Growth of Medical Technologies
The project aims to share knowledge and experience from Japan's medical system and to promote the international deployment of Japanese medical products and technologies that are of high quality and meet the needs of partner countries. The purpose is also to contribute to the improvement of public health and medical standards in the partner country, to enhance the trust of Japan in the international community, and to bring about a virtuous circle for both Japan and the partner country.
Project Scope of "Kenya Endoscopy Human Resource Development Support Project for the Diagnosis of Gastrointestinal Diseases"
1) Educational activities on gastrointestinal endoscopy, which is indispensable for improving the level of medical care for gastrointestinal diseases in Kenya, will be conducted in cooperation with the International Medical Department of Japan's Kyushu University Hospital, which has extensive experience in on-site training, training in Japan, and online training for healthcare professionals in emerging countries. The training will mainly be for medical personnel in Nairobi and surrounding counties where Japanese endoscopy equipment has been installed with the ODA. Training activities will be conducted jointly by industry and academia.
2) Training will be provided by Japanese lecturers in the areas of standard endoscopic screening and treatment of the upper and lower gastrointestinal tracts through classroom lectures, clinical guidance, and hands-on training using practical models. This will be a combination of on-site training, training in Japan, and online training. Olympus will arrange training courses and the equipment necessary for the training.
About Olympus
At Olympus, we are committed to Our Purpose of making people's lives healthier, safer and more fulfilling. As a global medical technology company, we partner with healthcare professionals to provide best-in-class solutions and services for early detection, diagnosis and minimally invasive treatment, aiming to improve patient outcomes by elevating the standard of care in targeted disease states. For more than 100 years, Olympus has pursued the goal of contributing to society by producing products designed with the purpose of delivering optimal outcomes for its customers around the world. For more information, visit https://www.olympus-global.com/ and follow our global Twitter account: @Olympus_Corp.
* Products or devices presented include future technology which may be pending regional regulatory approval and are not available for sale in all regions.
* The contents in this website including products availability, specifications or prices are the information as of the date of announcement and are subject to change without prior notice.
* Information is intended to be presented to the media, shareholders, investors, and other interested parties. Information about our medical products (including products currently under development) included in this website is not intended for advertising or medical advice.
* Olympus Corporation assumes no responsibility for any damage resulting from the use of this material.
* All company names and product names mentioned in this website are trademarks or registered trademarks of their respective companies. ® and TM marks are not specified in this website. All trademarks and registered trademarks are the property of their respective owners.