Olympus Announces Market Launch of EVIS X1™ Endoscopy System in the U.S.EVIS X1 Endoscopy System Will Be Demonstrated at the American College of Gastroenterology Annual Meeting
October 19, 2023
CENTER VALLEY, Pa. (Oct. 19, 2023) – Olympus Corporation, a global medical technology company committed to making people's lives healthier, safer and more fulfilling, announced today the market launch of its next-generation EVIS X1™ endoscopy system in the U.S., which will be on display and demonstrated Oct. 22-24 during the American College of Gastroenterology (ACG) annual meeting in Vancouver, Canada.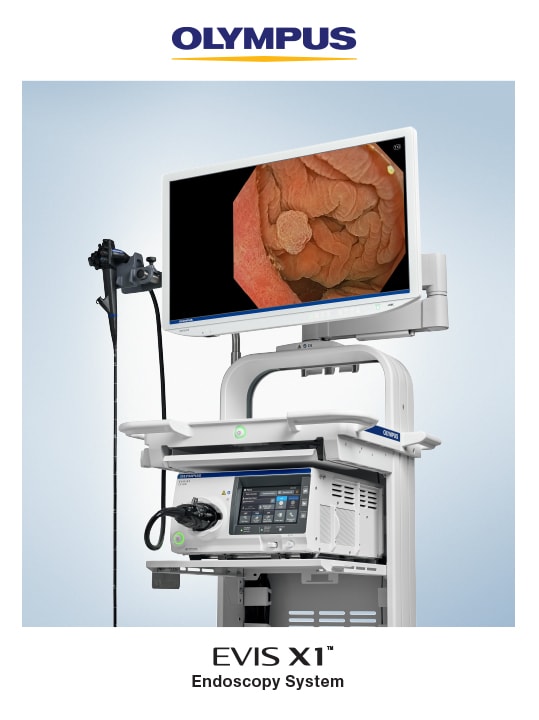 "Olympus is thrilled to bring our most advanced endoscopy system to GI practitioners in the U.S.," said Richard Reynolds, President of the Medical Systems Group for Olympus America, Inc. "The remarkable new technologies for visualizing the GI tract are designed to help physicians see more and do more to help their patients."
The EVIS X1 endoscopy system received clearance earlier this year along with two compatible endoscopes: the GIF-1100 gastrointestinal videoscope indicated for use within the upper digestive tract and the CF-HQ1100DL/I colonovideoscope indicated for use within the lower digestive tract. The ErgoGrip control section of these endoscopes is 10% lighter than Olympus' previous generation, and they are designed to increase user comfort and scope handling and to accommodate users with small hands.

Features of the EVIS X1™ endoscopy system include:
Texture and Color Enhancement Imaging (TXI™) technology is designed to increase the visibility of lesions and polyps by enhancing image color and texture during endoscopic screening.
Red Dichromatic Imaging (RDI™) technology is designed to enhance the visibility of deep blood vessels and bleeding points.
Brightness Adjustment Imaging with Maintenance of Contrast (BAI-MAC™) technology is designed to correct the brightness levels in dark areas of the endoscopic image, while maintaining the brightness of lighter areas, to increase the total distance view.
Narrow Band Imaging™ (NBI™) technology continues to be featured in the EVIS X1 endoscopy system. NBI technology enhances visual observation of mucosal and vascular patterns by utilizing specific blue and green wavelengths absorbed by hemoglobin.
Streamline procedures: The touch panel on the CV-1500 video system center allows the user to initiate all procedures and settings and control image data from one device.
MyCV mode: MyCV mode allows a physician to personalize imaging configurations and turn multiple functions off and on with a single scope button.
TXI, RDI, BAI-MAC and NBI technologies are not intended to replace histopathological sampling as a means of diagnosis. These are adjunctive tools for endoscopic examination that can be used to supplement Olympus white light imaging.

Olympus® GI endoscopy systems are used by physicians to help them to diagnose, treat, and observe diseases and disorders of the upper and lower GI tract such as acid reflux, ulcers, Crohn's disease, Celiac disease, and colorectal cancer (CRC). An endoscope is commonly used during a screening colonoscopy, when a gastroenterologist examines the lining of the colon and may remove any potentially cancerous growths, known as polyps. The addition of new imaging technologies in the EVIS X1 endoscopy system may help physicians to visualize these abnormalities.

CRC represents the third most common cancer diagnosis for men and women with an estimated 153,000 cases diagnosed annually, according to the American Cancer Society.1 CRC is a preventable and treatable disease, however, with a 5-year survival rate of up to 91%, if caught at a localized stage.2

For more information, visit the EVIS X1 endoscopy system page. For a demonstration, visit the Olympus booth #911 at ACG. Live demonstrations of the new imaging technologies will be offered during ACG 5 p.m. Oct. 22 and 11 a.m. Oct. 23-24. Visit the Olympus website for information on the entire gastroenterology portfolio.

###
1 American Cancer Society, "Key Statistics for Colorectal Cancer." Rev. January 2023.
2 American Cancer Society, "Survival Rates for Colorectal Cancer." Rev. March 2023.
About Olympus
As a leading medical technology company, Olympus uses innovative capabilities in medical technology, therapeutic intervention, and precision manufacturing to help healthcare professionals deliver diagnostic, therapeutic, and minimally invasive procedures to improve clinical outcomes, reduce overall costs, and enhance the quality of life for patients. Olympus' portfolio includes endoscopes, laparoscopes, and video imaging systems, as well as surgical energy devices, system integration solutions, medical services, and a wide range of endotherapy instruments. For more information, visit medical.olympusamerica.com.
* Products or devices presented include future technology which may be pending regional regulatory approval and are not available for sale in all regions.
* The contents in this website including products availability, specifications or prices are the information as of the date of announcement and are subject to change without prior notice.
* Information is intended to be presented to the media, shareholders, investors, and other interested parties. Information about our medical products (including products currently under development) included in this website is not intended for advertising or medical advice.
* Olympus Corporation assumes no responsibility for any damage resulting from the use of this material.
* All company names and product names mentioned in this website are trademarks or registered trademarks of their respective companies. ® and TM marks are not specified in this website. All trademarks and registered trademarks are the property of their respective owners.