Olympus Won Two Awards in the 4th CSR China Education Award (China)
October 22, 2020
The 4th CSR China Education Award 2020 officially released the annual results and list of winners. Olympus won the CSR China TOP 100 Award and the Best CSR Strategy Award by virtue of its outstanding performance in the 2018-2019 public health education activity of Stomach Care Month.

Established in 2014, the CSR China Education Award was jointly initiated by several industrial organizations under the guidance of the government. It is the only CSR award in China's education field, which encourages and honors outstanding CSR projects as well as enterprises, organizations and individuals that contribute to the development of education in China. This double-honor shows that Olympus' achievements and efforts in supporting the development of education in China have been recognized by the industry, which will encourage Olympus to further promote CSR development.
As one of the representative activities for public good in the field of health education, Olympus Stomach Care Month has been going on for ten years. Since 2010, Olympus has designated October as the Stomach Care Month and actively promote the concept of early detection, early diagnosis, and early treatment. While carrying out activities for public good, Olympus keeps digging into the theme and innovating the model, in a bid to bring new experience to participants every year.

Olympus Stomach Care Month 2019 rolled out in seven cities including Beijing, Jinan, Shenyang, Zhengzhou, Chengdu, Shenzhen, and Shanghai with the theme of Cheer for Stomach. Four creative activities entitled Knowledge Power Station, Practice Power Station, Happiness Power Station and Love Power Station attracted the enthusiastic participation of many citizens. So far, the campaign's footprints have covered more than 30 cities in China, and influenced over 100 million people in total, constantly awakening public awareness of protecting gastrointestinal health.

In the future, Olympus will firmly uphold a strong sense of social responsibility, actively implement Our Purpose of "Making people's lives healthier, safer and more fulfilling" and Our Core Values and continue to contribute to public good in the field of CSR to create more value for society.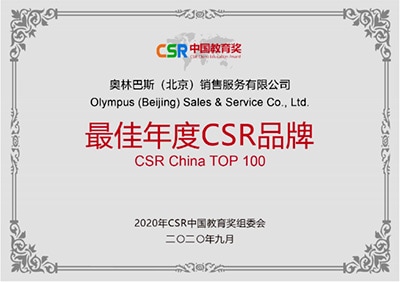 Olympus Won the CSR China TOP 100 Award

Olympus Won the Best CSR Strategy Award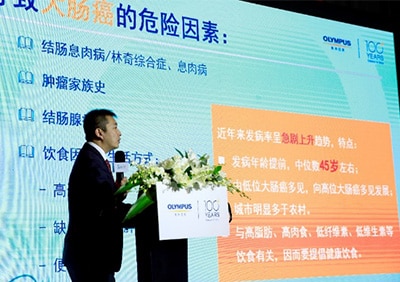 An Event of Olympus Stomach Care Month– the Expert Is Explaining Gastrointestinal Health
Information posted on this site is current and accurate only at the time of their original publication date, and may now be outdated or inaccurate.