Design AwardsRed Dot Design Award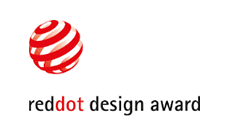 The "Red Dot Award: Product Design", one of the world's largest-class design awards, established internationally in the 1950's is one of the most sought-after quality marks for good design. The Red Dot Award, sponsored by the Design Zentrum Nordrhein Westfalen in Germany, recognizes excellent design in products launched during the previous two years. The award-winning products are selected based on nine criteria, including degree of innovation, functionality, ergonomics, ecological compatibility, and durability.
* The cameras, audio recorders and binoculars are no longer owned or controlled by Olympus Corporation or part of its overall product portfolio. Since January 2021 these products have been transferred to and are being marketed, sold and distributed by OM Digital Solutions.
2022
2020
2019
2018
2017
2016
2015
2014