Birth of Gastrocameras
Full-scale development of Gastrocameras
The first attempts to develop a gastrocamera were made by Lange and Meltzing of Germany in 1898, but they fell short of developing a device for practical use.
In 1949, a doctor working at the University of Tokyo Medical Center requested Olympus Optical Co.,Ltd. (currently Olympus Corporation) to develop a camera that could photograph and examine of the interior of a patient's stomach. Olympus undertook this difficult challenge, and the historic development of gastrocameras began. There were many difficulties including: producing extremely small lenses, discovering strong sources of illumination, searching materials for flexible tubes and the most appropriate films, as well as water leakage prevention measures. Researchers had to discover their own way and overcome obstacles through many futile trials and errors. In 1950, researchers, having gone through some tremendous ordeals, finally unveiled the first prototype. The instrument was equipped with a photographic lens located at the tip of the flexible tube. Images were captured on monochrome film by photoflashing miniature light bulb in vitro, activated manually. The film had to be wound up by pulling a wire. This device, however, was still too primitive for adequate clinical use.

An early prototype gastrocamera
The development team at Olympus, and doctors at the University of Tokyo Medical Center, continued working to overcome many challenges and difficulties. Olympus consistently worked on a camera that (1) presented no danger to the patient, (2) created minimal discomfort, (3) allowed photographing of any part of a stomach in a short amount of time, and (4) delivered crisp images for easier diagnosis. The development and perfection of the gastrocamera progressed quickly, and the device became widely accept by many doctors.

A model with a thinner tube
Such efforts made development in medical practice, and the gastrocamera made contributions to early detection of stomach cancer.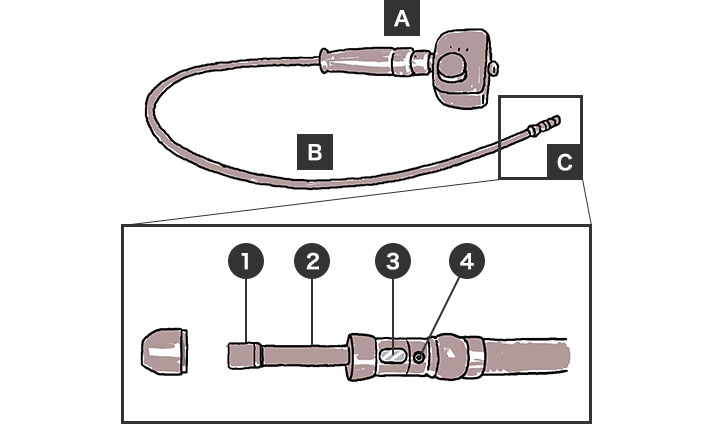 Gastrocamera
A: Control section (Film winder, Shutter release)
B: Flexible tube
C: Camera section
1: Film cartridge
2: Film
3: Illumination lamp
4: Camera lens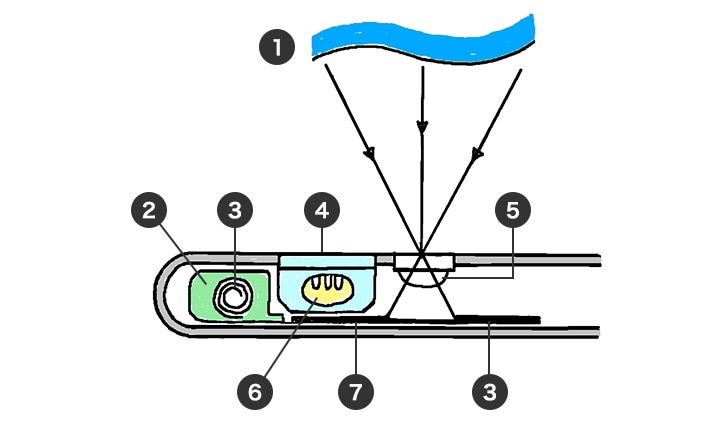 Gastrocamera tip structure
1: Stomach wall
2: Film cassette
3: Film
4: Waterproof protective glass
5: Camera lens
6: Illumination lamp
7: Film gate