Creating a "cycle of happiness" for society and employees by providing emotional support to patients
Olympus Korea
In the Olympus Group, Olympus Korea Co., Ltd. (hereinafter "OKR") handles the marketing and sales of medical endoscopes in Korea. OKR proactively conducts CSR activities based on the policy of "contributing to society's emotional health under the philosophy of "practicing respect for life." These activities are planned and operated based on knowledge gained through OKR's medical and imaging businesses. Partnerships have been forged mainly with medical facilities, cultural promotion groups and NPOs in Korea, contributing to the sustainability of both society and companies. In this article, OKR's CSR activities "I am CAMERA - a trip of hope -" carried out in October 2018 are presented along with the intentions of those involved.
* The cameras, audio recorders and binoculars are no longer owned or controlled by Olympus Corporation or part of its overall product portfolio. Since January 2021 these products have been transferred to and are being marketed, sold and distributed by OM Digital Solutions.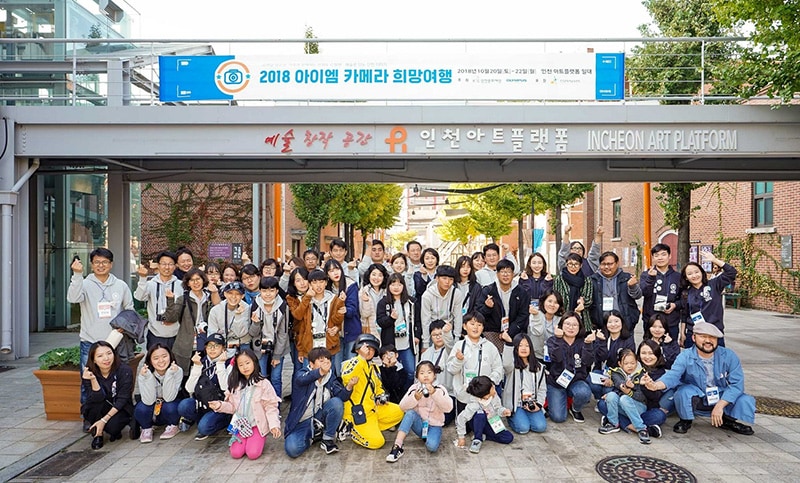 "I am CAMERA - a trip of hope -" was a title assigned with the intention of "discovering oneself through the camera and reflecting on the meaning of family through travel." These CSR activities are conducted for pediatric cancer patients and their families in Korea.
These activities comprise a two-night, three-day program including family photo shoot by a professional cameraman, artwork creation with the cooperation of cultural promotion groups, and information exchange sessions among parents, in addition to the outdoor photography session conducted by OKR staff serving as instructors. OKR requests large hospitals in Korea to select prospective participants who are able to participate in the two-night, three-day program. Arrangements are made to immediately respond to any health problems that may arise during their participation.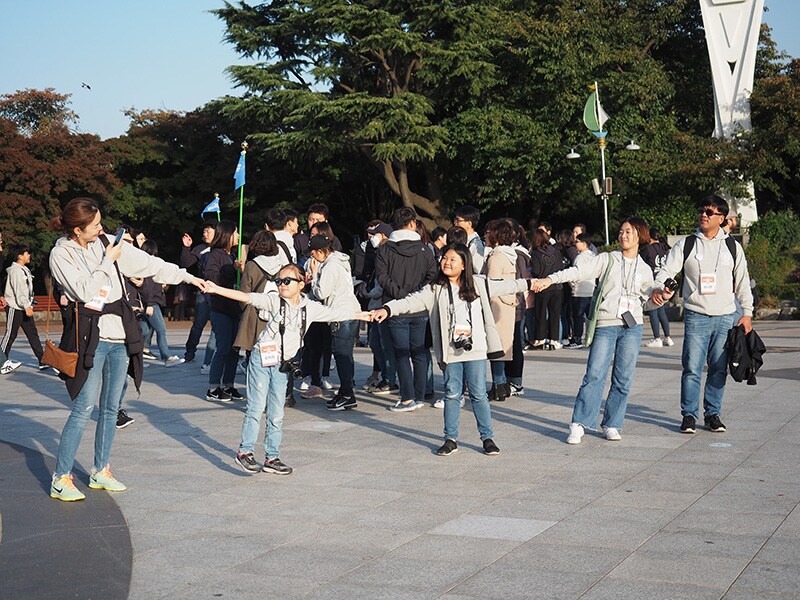 Since children and their parents spend most of their days visiting hospitals or inside hospitals, the time they can spend in a relaxed atmosphere that differs from their daily life is precious. "I am CAMERA - a trip of hope -" has been popular among many participants because it gives them stability of mind as a program that can be enjoyed by children and their parents and that enables parents of children with the same illness to deepen their friendship with each other.
"I am CAMERA - a trip of hope -" is an activity based on the basic photography course called "I am CAMERA" which is designed to enable its participants to enjoy photography after they learn how to use a digital single-lens reflex camera. This activity has been well received by hospitals too. "I am CAMERA" has been conducted in a total of 170 persons at 17 hospitals since 2015, while "I am CAMERA - a trip of hope -" has been carried out once a year since 2017 for 50 persons including students of "I am CAMERA" and their families.
"I am CAMERA - a trip of hope -" 2018 was selected as the "Excellent Program for Cooperation between the Public and Private Sectors" by Arts Council Korea, a public institution affiliated with the Korean government. In addition, the program was co-hosted by the Incheon Foundation for Arts & Culture, a Korean cultural promotion institution.
The first day of "I am CAMERA - a trip of hope -" started with an orientation. While the host cheerfully enlivened the event, the OKR representative made some remarks, the programs and participants were introduced, and simple games were played by parents and their children and the participants nearby.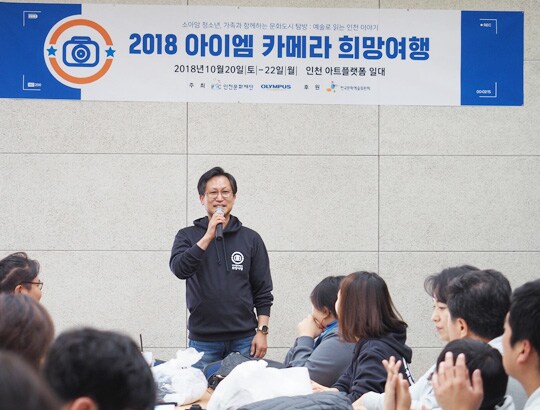 Greeting by OKR representative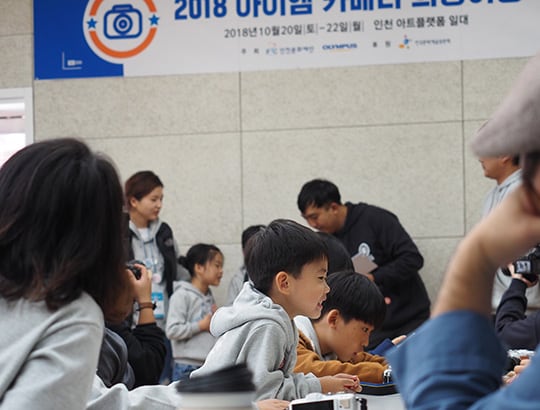 Participants are wearing light grey clothes and the staff, dark grey clothes.
In a relaxing atmosphere, the outdoor photography session began as the main program. Parents and their children took photos while walking around Incheon's cultural aesthetic quarter to create works for the photo exhibition to be held at a later date. The aesthetic quarter kept the children interested with numerous artworks and cultural buildings. OKR's staff members taught the participants how to use a camera, watched out for the safety of the children, and walked with the participants while talking to them. It was a heartwarming scene to see children running around, playing around with their parents and the staff, and taking photos while pretending to be a cameraman under a clear sky in October. The parents, too, took photos with their children with a gentle expression on their face and had a good time talking with each other. OKR staff also conducted activities in a lively manner.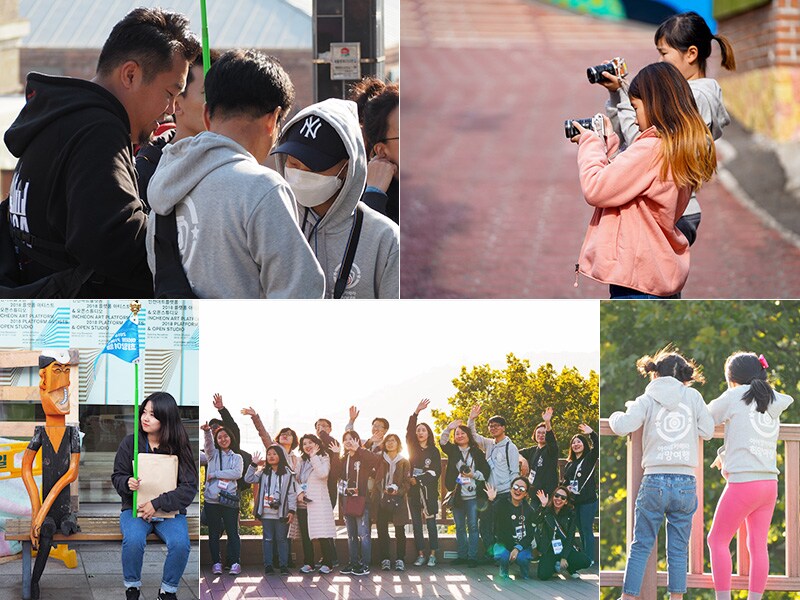 At sunset, everyone went back into the building and the cameraman started the family photo shoot. The staff arranged the hall into a photo studio, and test shooting was done. The photo shoot props were filled with ideas by the staff, which led the children and their parents to enjoy the shoot in various ways.

On the second day, the children and their parents undertook separate programs until the evening. The children created artworks with local artists and the staff. They engaged in artwork creation as they looked forward to showing the finished work to their parents. The parents got together and enjoyed chatting with each other. They shared their struggles and feelings as parents of children with the same illness and spent a relaxing time that was different from their everyday life worrying about their children.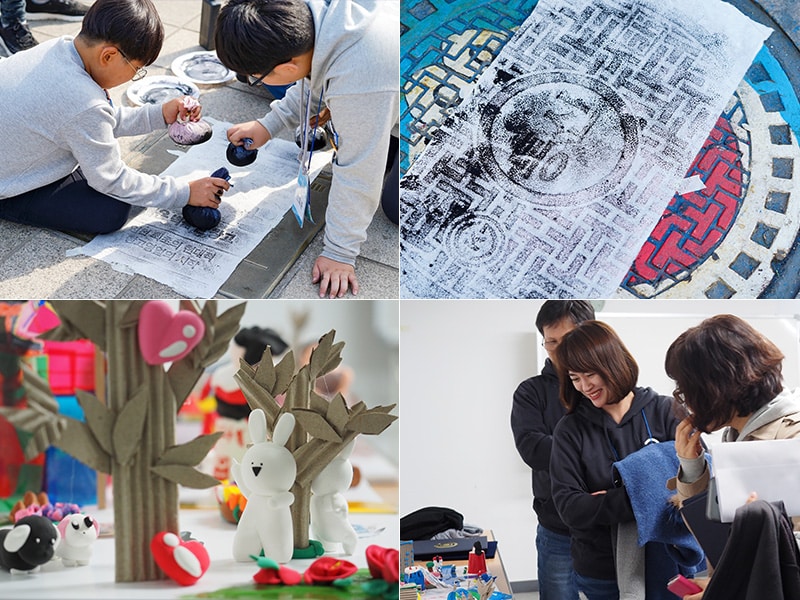 Parents and staff look at the children's tour de force with a smile
Parents and their children made accessories using the family photos from the evening. In addition, children wrote letters to their parents, and vice versa. At night, the letters were read to each other, and a presentation ceremony was held in which children recognized their parents.


A married couple enjoys making accessories for the family photo with a gentle expression. The photo appears to be in motion when it is spun around.
At the presentation ceremony, children who earlier had been running around innocently presented letters of gratitude to their parents with a serious look on their face. The messages read, "Thank you always for taking care of me when I feel pain in my body.", "I recognize my mom and dad for taking good care of me." and "I present you this letter for constantly looking out for me." There were tears and smiles on the face of the audience.

The second day ended with the "Light Painting" challenge. Letters are written in the air using a smartphone to which color cellophane is adhered in a dark room, and photos are taken at a slow shutter speed. This results in photos of color letters on a black background. The children showed a keen interest when the staff was explaining how this worked. They played energetically until night by changing the letters and trying different variations.


A light painting work. Since it is difficult to know when to write the letters in the air, families and the staff take on this challenge by calling out to each other.
The third day was the last day of "I am CAMERA - a trip of hope -". On this day, participants deepened exchange with each other while putting the finishing touch to the works for the exhibition, which will be held at a later date.
The closing ceremony was held at the end. Following some remarks by representatives of OKR and the Incheon Foundation for Arts & Culture, each family talked about its thoughts and impressions, and participants had lunch in a warm atmosphere and broke up after taking a commemorative photo.